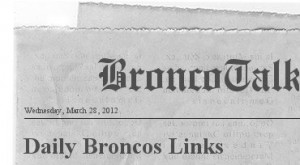 Here come some more of your daily link juice, but first, don't forget to participate in our contest to win a custom painting of a player of your choosing. Â So get your picks in!
I've got the top stories from yesterday above the fold, but you may find a few gems further down the list. Â I loved Tim Tebow, but I certainly don't miss the sheer volume of media coverage the Denver Broncos had while he was the starting quarterback!
Peyton Manning's Long Game – Peter King
This doesn't happen to legends with time left on the clock. Legends who can play—and Peyton Manning can still play, if his neck holds up—don't jet across the country from one city to the next in a two-week span to showcase themselves. And let teams showcase themselves to him. Manning, the highest profile free agent in NFL history, interviewed the teams that wanted him as much as they asked questions of him.
Elway Guiding Broncos to Greatest Comeback Ever – Yahoo! Sports
When John Elway was hired by Pat Bowlen to be the Vice President of Football Operations in early January of 2011, the Denver Broncos were at a low spot. Barely 14 months later, the team is coming off an improbable playoff berth and the signing of perhaps the biggest free agent in NFL history, Peyton Manning.
Denver Broncos still have holes to fill at defensive tackle – Denver Post
Peyton Manning may be unreal. He may be a Hall of Famer in waiting. He may be in the discussion for greatest NFL quarterback of all time. But Peyton Manning can't play defensive tackle.

Coach John Fox previews Broncos offense with Peyton Manning – CBS Sports
When the Denver Broncos won the Peyton Manning Sweepstakes, it signaled an end to the Tim Tebow era. He's since been shipped to the Jets where he's, well, excited. The biggest question now facing the Broncos: how healthy would Manning be when the 2012 season begins in almost six months.
Peyton Manning's methodical job hunt – USA Today
Peyton Manning sounded relieved. It was his first day at work on a new job, and in so many ways this moment took way too long to arrive.
NFL scouts concerned about Manning's arm strength
The last time he stepped off a football field, Broncos quarterback Peyton Manning was wrapping up a 33-touchdown, 17-interception, 4,700-yard season in Indianapolis. The yardage was Manning's career high, and only once before in his 13-year career had he thrown more touchdown passes.
Seven things we learned from Manning's courtship – NFL News
I love reading about football almost as much as writing about it. It never gets old. The beauty of managing this blog is that I get to share the best stuff with you.
Shanahan on Broncos-Manning deal: 'They got it done' – NFL News
There was a period in our history when Mike Shanahan wore the "genius" label, a gaudy title draped on the coach after he transformed the Denver Broncos into back-to-back Super Bowl winners in the late 1990s.
Wild West once again: Star QBs stock Denver Broncos' division – The Denver Post
Put away those popgun arms. They had as much right in the AFC West as a hayseed at an English tea.
Woody Paige: Some QB history in Denver a sore subject – The Denver Post
A gastronome knows food; a sommelier appreciates wine. Peyton Manning is a quarterback cognoscente.
Broncos coach John Fox talks Peyton Manning, Tim Tebow at NFL coaches breakfast – The Denver Post
Despite the early hour — 5:15 a.m. MDT is early for the worm, never mind the bird — John Fox was his usual jovial self during the AFC coaches breakfast.
John Fox confirms: Broncos will run their offense Peyton Manning's way – Yahoo! Sports
The Denver Broncos received a great deal of justified praise for scrapping their traditional NFL offense and going with an option-variety set of schemes once Tim Tebow took over. By bending to Tebow's strengths and limitations, John Fox's team won a playoff game after a 1-4 start in Fox's first season as head coach in Denver.
Offseason Plan #2, The Rebuild Is Over – Mile High Report
The biggest question I face as I wonder about the direction for the Broncos in the upcoming draft is whether or not we add a few more weapons for Peyton Manning early in the draft, or do we continue to build a defense that will get him the ball back as much as possible? For this mock, I chose the latter.
Looking ahead to the NFL Draft, Part 1 – Mile High Report
The NFL Draft is a month away, 29 days from now to be exact. Free Agency is winding down, and now we have an idea, of what positions we will target. So with that said, lets take a quick look at the Free Agents we have signed as of today.
Chasing the elusive butterfly – the pocket collapsing, pass-rushing DT – Mile High Report
Most of us here at MHR agree that there were some big holes in our defense last year. Our pass defense was either in the bottom half of the league or the bottom third of the league depending upon what stat you chose to cite.
Peyton Manning Must Stay Healthy – Predominantly Orange
The Denver Post reported that former Denver Broncos quarterback Jake Plummer was seen throwing passes at the South Suburban Sports Dome on Monday. He was throwing to some of Denver area trainer Loren Landow's guys.
Bowlen for dollars: How the Broncos are spending in NFL free agency – First and Orange
Remember that $40 million in salary cap space the Broncos had entering the 2012 offseason? They figured out how to spend it. In the past 10 days, Broncos owner Pat Bowlen has invested nearly $140 million in nine players.
King: Tebow makes Jets a tough matchup – SI.com
SI.com's Peter King says what kind of impact Tim Tebow could make on his new team.
Courtship Of Peyton Manning – ESPN
John Elway sits down with Adam Schefter to discuss recruiting and landing Peyton Manning, the expectations facing Manning this season and how difficult it was to trade Tim Tebow.