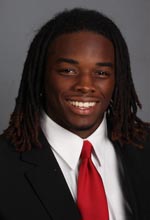 Today's GM is BroncoTalk's very own, Jon Heath.
With the fifth overall pick in the 2012 Interactive Mock Draft, the Tampa Bay Bucs select…
5.

Trent Richardson, RB, Alabama
Before the draft, Malcolm, Greg and I decided to draft the top player available on our board when we came on the clock, and we stuck to that commitment.  It was however one of the hardest decisions we have ever made.

Trent is going to come to Tampa and team up with LeGarrette Blount in our backfield to form, in our opinion, one of the best one-two punches in the NFL.  We have confidence in our offense moving forward with guys like Josh Freeman, Richardson, Blount and Vincent Jackson leading the charge.

On the defensive side of the ball, we are exciting about our defensive line with Gerald McCoy and Da'Quan Bowers coming back, and we will address the secondary in the second round.  We felt that Trent was too talented of a player to pass up on, so we stuck to our draft board.

Richardson is a complete back that has impressed us more than anyone else that was available when we were on the clock. Â I've been an NFL G.M. for about five days, and I've never seen a back as talented as Richardson enter the draft.