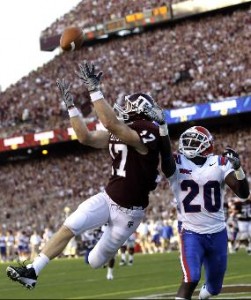 After the short weekend intermission, we will continue with the Interactive Mock Draft. No breaks from now on.
This pick is brought to you by GMÂ Eljbow.
With the fourth pick in the 2012 Interactive Mock Draft, the Cleveland Browns select…

4.

Ryan Tannehill, QB, Texas A&M
Here we go, the first of two first round picks for the Cleveland Browns. I know what most of you are thinking, why not try and use the ammunition to trade into the number two spot and take RGIII?

The answer is simple, the Browns are pretty terrible and one quarterback, no matter how good, will not be the answer. The Browns are still in the middle of a 13-year rebuilding project. They have no quarterback, no good wide receivers, no premier running back, and a pretty decent left tackle wasting his career. Because of all this, it's time to solidify one of these major offensive positions.

With the number four pick, we're taking Ryan Tannehill, quarterback out of Texas A&M. This could be a dramatic reach, or even a slight reach, but either way the Browns need a franchise quarterback to get behind and Colt McCoy is not the answer. With this pick the Browns can clear up a position of need on their roster and leave room for a good pick later in the first round to shore up some other offensive skill positions. And, let's face it, he's not pushing 30 heading into his rookie year…Brandon Weeden I'm looking in your direction.

The question now turns to who the Browns will draft come pick 22, to find out the answer, tune in April 11.