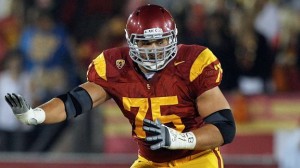 As promised, this mock is going to get interesting. The third overall pick may make sense, but our GM today, bpdouglass, has some shocking words to part upon us Bronco fans.
You really need to read what he has to say after the jump.
With the third pick of the 2012 interactive mock draft…Â the Minnesota Vikings select…
3.

Matt Kalil, OT, USC
Let it be clear this is written several days in advance with qualification: if the quarterbacks don't go 1 and 2, I'd withdraw my participation on grounds the folks at 1 and 2 are clearly more interested in smoking meth than serving a quality mock draft.

They are going 1 and 2. Indy is trading out and Washington is taking RG3. That's in ink and it's done. I can assure you Minnesota SHOULD trade up but they will not… and I'm not going to drag this entire draft through the mud trying.

They are talking Matt Kalil. They are rolling forward with the kid at QB and the power at RB (hoping he stays healthy). That's that.

Of course, as an admitted Chicago fan hiding in Denver, I'd readily admit I WANT to trade down… way down… just to hurt the Vikes. I hate them and hope they regret this and every decision they make as a team, as individuals, and as human beings. Screw them.

And while I'm here, mark me down as public enemy #1: Cutler will play more games, throw for more yards, and complete more touchdowns than the Denver Broncos latest reclamation-turned-prophet.

The statements above are in no way endorsed by the BroncoTalk staff and should in now way be taken as assertions or representation of opinion, belief, suggestion or prediction by any member of the BT team. They belong to jackass BT foolishly invited in, a mistake they likely won't make again.

All criticism, debate, insult, and note of hatred should be aimed appropriately. You'll find me on Twitter: @bpdouglass … bring it on.