Posted Wed Mar 14th by Monty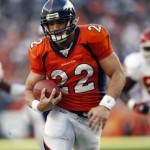 The Kansas City Chiefs fortified their running attack today, even with the return of Jamaal Charles still looming.
Former Denver Broncos fullback and running back Peyton Hillis has signed with the Kansas City Chiefs, the Chiefs announced today. It is reportedly a one-year deal for Hillis, who played his last two seasons with the Cleveland Browns.
Two fan favorites potentially landing elsewhere in the AFC West in one night? This is the ugly side to NFL free agency.