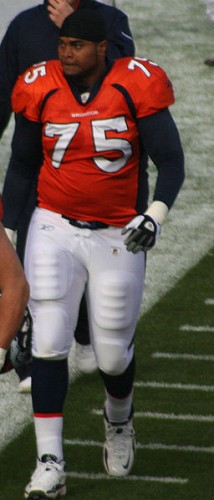 Name:Â Chris Clark
Height, Weight: 6'5″, 305
Position: Tackle
Age, Experience: 26, 3rd Season
College: Southern Miss.
Chris Clark signed with the Tampa Bay Buccaneers in 2008 as an undrafted free agent before joining the Minnesota Vikings later that year. Â After being waived by the Vikings, Clark signed with the Broncos and was active for eight games as a back-up offensive lineman in 2010. Â Last season, Clark appeared in the final eight games of the season (officially starting in six), primarily on special teams. Â Clark saw extensive playing time in Denver's jumbo formations as an extra offensive tackle outside of the tight end (or offensive tackle) on the end of the Denver's offensive line. Â The Broncos used Clark mainly on running downs and he provided depth and experience to the Broncos' trenches.
2011 Analysis:Â Clark was active for all sixteen games last season (playing in eight), and was featured on special teams. Â Primarily used on offense for running downs, Clark was more useful in run-blocking then he was in pass-protection. Â In passing situations, Clark was penalized twice and allowed one sack.
Contract Status:Â  Restricted free agent.
2012 Outlook: Â If the Broncos re-sign Clark, he will likely fill the same role that he had last season in Denver.
As always, we invite you, the readers, to participate. Is Clark worth re-signing?

Loading ...
We hope you enjoy these posts as BroncoTalk develops a one-of-a-kind fan-powered Denver Broncos roster on the web.