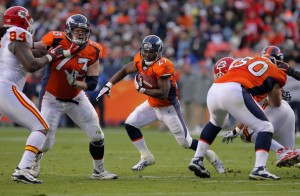 Knowshon Moreno, Denver's 3rd year formerly starting running back, is on the verge of being a draft bust. Josh McDaniels drafted him #12 in the 2009 draft and, given his stellar college career, he came into the NFL with high expectations. At Georgia, despite declaring for the NFL draft as a junior, he held sixth place in the school record list for 498 rushing attempts, 2,734 rushing yards, and 30 rushing touchdowns.
But his first year with the Broncos was met with disappointment: he managed only a 59.2 yards per game average in 16 games, and a paltry 7 touchdowns. He seemed slow to hit the hole, indecisive, and lacked a burst once he hit the second level. His performance seemed less than pedestrian. While it is true that the offensive line took a lot of the blame for his poor performance, Moreno himself seemed to be much of the problem.
2010 was not any better. He only played in 13 games, but his average per game went up by only .7 to 59.9 yards per game and only 5 touchdowns.
In the 2011 offseason, he started a serious workout program. He slimmed down and tried to be a faster, more dynamic back. In training camp, his expectations were high, going so far as to occasionally be referred to as "New Knowshon" or "Knewshon", but he was quickly eclipsed by McGahee who was superior in every respect. Still, as a relief running back, Moreno actually showed significant improvement over the course of the season with few opportunities. Then he blew out his ACL in game 7 of the season and had to be put on injured reserve.
John Fox said today that his rehab is coming along "quite nicely," and that he sees Moreno in the team rehab facility almost every day. With luck, the ACL won't set him back, but one never knows about an injury of that nature.
Privately, the team has said that they intend to keep him on the roster in 2012, but he will have a smaller role in the offense. His salary cap hit is very small, and the team is already in need at his position. With McGahee having worn down by the end of the season, it is important that the team has a solid back that can relieve McGahee so he does not have to carry the load for so long.
To throw a wrench into the mix, however, Moreno was arrested for a DUI on Feb 1. He was pulled over for speeding in a construction zone, and then they found that he not only had been drinking, he did not have proof of insurance.
Fox's comments on the matter seemed relatively neutral; he clearly did not want to overly punish a player for making a mistake, but also will not want to see something like this happen from the player again.
What does the future hold for Moreno? His rehab is going well, but you never know how an ACL will heal until it is healed. These days ACL tears aren't the career-enders that they used to be, but frankly Moreno's weaknesses as a running back are only going to be compounded by a bad knee. The Broncos are in need of another back, and it seems likely that he will return to the team only to be in fierce competition with Lance Ball, Jeremiah Johnson and Mario Fannin for the #3 position. Ball is the leading prospect for that role, but Fannin came into the league with high hopes that he could be a diamond in the rough. With all of this, it is entirely possible that between his knee, his DUI, and his sub-par performance, he might not survive the cut-down phase at the end of training camp.
All in all, Moreno has his work cut out for him; he has already fallen far short of his draft expectations, and unless he improves drastically in 2012, he is going to be considered a first round bust.