Posted Thu Feb 23rd by Monty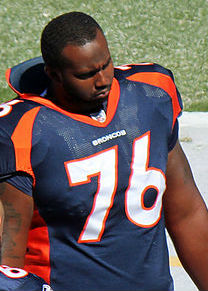 Name: Tony Hills
Height, Weight: 6'5″, 304
Position: Tackle
Age, Experience: 27, 5
College: Texas
Tony Hills entered his fourth training camp with the Pittsburgh Steelers in 2011 with a new task: play right guard. He started at the position for the team's second and third preseason games and reportedly played well; however, for one reason or another, the Steelers reverted to their original starter, Doug Legursky, and Hills was cut. The Denver Broncos quickly picked him up and signed him to a two-year deal. Hills, a fourth round draft pick by the Steelers in the 2008 NFL draft, played in five games during his three years in Pittsburgh, including some special teams work in Super Bowl XLV.
2011 Analysis: Hills was listed as second-string RT behind Orlando Franklin on the team's depth chart and never saw time.
Contract Status: Signed through 2012; Free agent 2013
2012 Outlook: Hills represents versatility with the potential for more. The Broncos have him listed as a tackle, where he played in college and almost his entire NFL career, but the fact that he spent last year's training camp in Pittsburgh preparing to play guard means the Broncos could count on him to convert again in a serious pinch. He hasn't lived up to his fourth round draft potential, but he has good size, good measurables, and will push whomever is in front of him on the depth chart for playing time.
As always, we invite you, the readers, to participate. Is Hills a worthwhile backup O-linemen or should the Broncos look elsewhere?

Loading ...
We hope you enjoy these posts as BroncoTalk develops a one-of-a-kind fan-powered Denver Broncos roster on the web.