Posted Mon Feb 20th by Monty
Tim Tebow transcends the normal NFL quarterback offseason. We at BroncoTalk are still getting near-daily tips about Tebow news items, charity appearances, YouTube videos, or media mentions, with little slowing down. There's just not enough time in the week to get through all of it without turning this blog into a veritable "TebowTalk," and we're not interested in that. With that in mind, we introduce "This Week in Tebow" — a weekly column (usually appearing Sundays) to roundup the previous week of Tebow news. Enjoy!
Jeremy Lin is the Tim Tebow of the NBA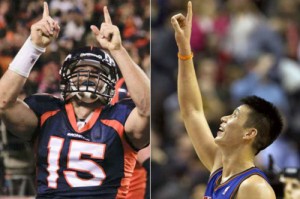 A God-fearing underdog who rose from the bench in his second year to turn his team's season around, the New York Knicks' Jeremy Lin is currently sitting atop the sports media world. You can't turn on SportsCenter without a Lin sequence appearing within three minutes, and, at the time of this writing, Lin stories were featured links on the front pages of ESPN, CBS News, and CNN… twice.
"He's not just the biggest NBA story at the moment though, he's the biggest story in sports," Matt Yoder of Awful Announcing writes. "His heritage, his background, the city in which he plays in (sic), and the shock to his success all play a role in Linsanity."
But how does Linsanity compare to Tebowmania?
Both Lin and Tebow were the biggest stories in sports at the times of their respective success (for Lin, that's right now). Both have memes of a sort that transcend the sport itself (Lin puns; Tebowing). Both have been parodied on Saturday Night Live. Both are devoutly religious and redirect praise to God and their teammates.
Heck, both players have even been linked to (and denied dating) Kim Kardashian.
If that isn't Tebowmania 2.0, I don't know what is.
The differences are clearly there, and you can debate them if you like (Lin is a true underdog, come-from-nowhere swan story while Tebow was a well-known figure with modest expectations… Lin actually performs well while Tebow won despite playing awful at times). To me, sitting on those differences and not recognizing the great similarities in these two great stories in sports is just being contrarian.
The similarities are eerie and worth noting.
I for one am enjoying Linsanity more than Tebowmania because my love for the Denver Broncos comes first, and the craze that surrounded Tim Tebow dwarfed the success the team as a whole was having. Frankly, I'm thrilled that the sports world is taking a break from Tebowmania so we, as Broncos fans, can get back to the business of building a football team. Let's talk about Von Miller and Brian Dawkins and draft picks and free agents and keep Tebow offseason coverage in its rightly place.
Such as a once-a-week roundup column.
Here's to many more months of Jeremy Lin atop the sports world.
"Be my date, Tim Tebow"
Airman Jamie Walden has asked Tebow to be her date to the 2012 military ball in Shreveport, LA, getting a few dozen friends and family members in on the action via a YouTube video that has gone viral. While it may seem we are late to this party, a relative of Jamie's put this on BroncoTalk's Facebook page weeks ago — we've truly been working on this column ever since.
Lindsay Jones of The Denver Post reports that Tebow is aware of the proposal but hasn't made a decision known yet. The ball is in April — the same month the Broncos begin their offseason conditioning program.
The 20-year-old Walden is cute, bold, and, as an active member of the military, obviously dignified and respectable. Our vote: Tebow should take Walden up on her proposal.
Reinventing the Wheel (-like windup of Tim Tebow)
As for Tebow's football-related offseason, those workouts have already begun. As BroncoTalk first reported last Tuesday, Tebow is in California working with UCLA offensive coordinator Noel Mazzone on mechanics and footwork.
"He just came out here to throw and work on a few things and see if we can just become a little more efficient in what he's doing," Mazzone told ESPN Thursday, noting that the sessions would last at least through the weekend. "Throwing motion, footwork, everything I work on with all my quarterbacks."
Who are Mazzone's other quarterbacks? Try Philip Rivers of the San Diego Chargers and Christian Ponder of the Minnesota Vikings. Both were reported to be joining Mazzone's workouts by the end of last week.
Then, of course, there's Tebow himself. Tebow already is one of "Mazzone's quarterbacks." The player and coach worked together as Tebow headed into the 2010 NFL Draft to famously "fix" this same throwing motion. Ironically, NFL Network even interviewed Rivers at the time to talk about Tebow's work in that department.
Mazzone and Tebow are not going to reinvent the wheel in one offseason, but, in a game of inches, microseconds off Tebow's throwing motion could be the difference between a touchdown throw and another wild Tebow scramble. The Broncos are looking for more of the former in 2012, so we're all for Tebow getting these tedious reps in that change his wind-up.
We're not looking for Tebow 2.0. Just an arcing motion that's closer to his shoulder than his waist would make a huge difference.
Miscellany
Tebow for President?
Despite the fact that he's only 24 and wasn't born in the United States, a Reuters poll put Tebow atop the list of NFL QB's for whom the public would vote to become President. Tebow thanked fans for support but said his focus is on the NFL right now… showing he's clearly been trained in the ways of politics already.
Pray for Presli
Speaking of dates, Tebow had one this weekend — nine-year-old Presli Collins, with whom he raised awareness in NF1 (neurofibromatosis). For more info on Presli's battle, visit www.facebook.com/PrayforPresli.
The "Tebow Bill"
A bill named after Tebow has passed the Virginia House of Delegates and is now ready to be presented in the state's senate, NFL.com reports. The "Tebow Bill", so-named because of Tebow's high school football career, would allow home-schooled teens to participate in high school sports, just like Tebow did. Having someone as popular as Tebow behind the bill, even in name only, is a powerful ally, and we'd be surprised if we don't see the bill get passed.
That's all for this week in This Week in Tebow. Let us know what you think, and be sure to send us all our Tebow-related tips as always to broncotalk@gmail.com.