Posted Wed Feb 15th by Monty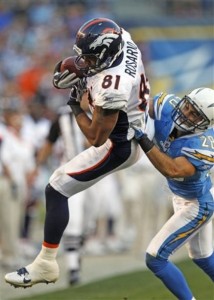 Name: Dante Rosario
Height, Weight: 6'4″, 250
Position: Tight End
Age, Experience: 27, 6
College: Oregon
Rosario Dawson, erm, Dante Rosario was drafted by the Carolina Panthers in the fifth round of the 2007 NFL draft. A John Fox veteran, Rosario was a makes-sense fit for the Broncos as they looked for a veteran tight end in free agency last year. Rosario initially did not make the team out of training camp, but an injury to rookie Julius Thomas and some lucky timing in what ended up being a two-week stint with the Miami Dolphins saw Rosario quickly return to the club on September 22 and stick there the rest of the season. Rosario is responsible for one of the most famous plays in Panthers lore — a game-winning touchdown catch as time expired in 2008 against the San Diego Chargers that gave the Panthers a 26-24 victory. (And any player that upsets the Chargers is a good player in my book.)
2011 Analysis: Rosario was a rotational tight end and caught seven passes for 117 yards for the Broncos in 2011. His 16.7 yard reception average was impressive; in fact, it was the 2nd best mark on the team across all positions. Initially released out of training camp following the emergence of rookies Thomas and Virgil Green, Rosario ended up mostly holding off Thomas and playing in all 14 of the Broncos' remaining games after he was re-signed before Week 3.
Contract Status: Unrestricted free agent 2012
2012 Outlook: As of this writing, Dante Rosario is one of the Broncos' 17 unrestricted free agents, and he isn't even the only veteran tight end with that status (Daniel Fellsis in the same boat). With the Broncos having spent draft picks on Thomas and Green, and Fells being the starter last year, Rosario may find himself the odd man out (again).
As always, we invite you, the readers, to participate. Is Dante Rosario a good fit as a rotational player, or should the Broncos rely on Thomas and Green improving and find veteran help elsewhere?

Loading ...
We hope you enjoy these posts as BroncoTalk develops a one-of-a-kind fan-powered Denver Broncos roster on the web.