Posted Mon Feb 13th by Monty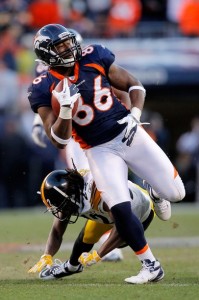 Name: Daniel Fells
Height, Weight: 6'4″, 252
Position: Tight End
Age, Experience: 28, 5
College: UC-Davis
Daniel Fells signed a one-year deal with the Denver Broncos following a breakout season with the St. Louis Rams in 2010. As one of rookie Sam Bradford's favorite targets that year in a predominant backup role, Fells tallied a career-high 41 receptions while proving to be one of the team's better run-blockers. In 2011 with the Broncos, Fells got his first chance at true starter status; he didn't match his 2010 numbers, but he did what he was asked: deliver some crushing blocks in the running game and make some big catches in the passing game.
2011 Analysis: Fells had 19 catches for 256 yards and three touchdowns in 2011, with 11 of his receptions coming before Tim Tebow took over the starting QB position in Week 7. Suffice to say, he may have grown into being a more predominant weapon in the passing game as he grew more comfortable in the Broncos offense, but John Fox and Mike McCoy went in a more run-friendly direction. His contributions in the passing game are not to be cast aside, however: he had a killer clutch catch against Miami that got Tebowmania started, and he had two catches for an impressive 57 yards in the Broncos' postseason win against Pittsburgh. He may not have had a lot of catches, but when he did, he made them count.
Contract Status: Unrestricted free agent 2012
2012 Outlook: We anticipate tight end to be one of the more interesting and fluid positions across the Broncos' roster in 2012. The Broncos also signed tight end Dante Rosario to a one-year deal last offseason, so it's likely only one of them will be brought back as the team looks to upgrade the position. That upgrade may just come in-house: the Broncos drafted two tight ends in Julius Thomas (fourth round) and Virgil Green (seventh round) last year. Thomas is an athletic pass-catcher who had a promising training camp but couldn't get off the bench; Green was a run-blocking machine with little production in the passing game. The Broncos may conclude that Fells remains the best option as a happy medium at this point.
As always, we invite you, the readers, to participate. Should the Broncos bring Fells back or look elsewhere?

Loading ...
We hope you enjoy these posts as BroncoTalk develops a one-of-a-kind fan-powered Denver Broncos roster on the web.