Posted Thu Feb 9th by Monty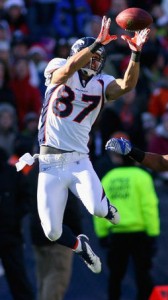 Name: Eric Decker
Height, Weight: 6'3″, 218
Position: Wide Receiver
Age, Experience: 24, 3
College: Minnesota
Eric Decker was a top college prospect coming out of Minnesota in 2010, but a season-ending, surgery-requiring foot injury dropped his draft stock to the point where the Denver Broncos were able to snag the wide receiver with their third round draft pick that year. Decker ended up missing mini-camp and OTA's due to the injury, but he came on strong by training camp and the preseason — in fact, he led all NFL rookies in receiving yards during the 2010 preseason. The early promises of 2010 began to bear fruit for Decker in 2011 as he moved into a starters' role, and while his statistical pace slowed with the insertion of Tim Tebow at starting quarterback, there are reasons to believe Decker can continue to improve, even to the point of his pre-college injury, first round stock potential.
2011 Analysis: Eric Decker started 13 games in 2011, appearing in all 16, though a knee injury knocked him out of the postseason finale in New England. In the regular season, Decker caught 44 passes for 612 yards and eight touchdowns — probably better production than most hardcore fans tend to remember. That's because Decker's impact was much more felt with Kyle Orton in the lineup than with Tebow; for whatever reason, the 2010 draft classmates were never able to get on the same page the way Demaryius Thomas and Tebow were late in 2011. To point: Decker had four touchdowns in the first five weeks of the season, with Kyle Orton as the starter. He had that same number of scores the rest of the way, taking him 11 weeks with Tebow to reach the same TD output that he did in five weeks with Orton. (His Week 10 56-yard touchdown catch from Tebow was a thing of beauty, though.)
Contract Status: Signed through 2013; Free agent 2014
2012 Outlook: Decker's known as a smart, sure-handed player, but the latter trait seemed to escape him as 2011 progressed. Decker was dropping a number of Tebow passes, so it should behoove the player to work with Tebow as much as possible this offseason and find a rhythm. Luckily, the knee injury Decker suffered in the Broncos' Wild Card game was reportedly not serious: he suffered a sprained MCL (as opposed to a 2012-threatening torn ACL) and should be available to get back to work soon. The Broncos are thin at receiver, so while they'll certainly look to add depth and competition, a disciplined offseason should keep Decker implanted in a starters' role.
As always, we invite you, the readers, to participate. Will Decker take his game to the next level in 2012, or are the Broncos better off adding a top prospect through the draft or free agency?

Loading ...
We hope you enjoy these posts as BroncoTalk develops a one-of-a-kind fan-powered Denver Broncos roster on the web.