Posted Wed Feb 8th by Monty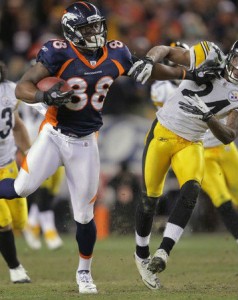 Name: Demaryius Thomas
Height, Weight: 6'3″, 229
Position: Wide Receiver
Age, Experience: 24, 3
College: Georgia Tech
Demaryius Thomas was drafted by the Denver Broncos with the 22nd pick in the first round of the 2010 NFL Draft. Drafted three spots ahead of Tim Tebow, the wide receiver and quarterback began to find a rhythm in 2011 that exploded into Thomas's breakout game in the first round of the AFC Wild Card playoffs against the Pittsburgh Steelers. An 80-yard catch-and-run (and a handful of NFL playoffs records) later, Thomas is thought to be a focal point for the offense the Broncos will build around Tebow.
2011 Analysis: Many thought Thomas might miss the entire 2011 season when he tore his Achilles tendon during a workout on February 10, 2011 (almost exactly one year ago today). He fought through the injury, however, and made his sophomore season debut after the bye — just in time to see the Broncos' #1 and Pro Bowl wide receiver Brandon Lloyd traded away. It took Thomas awhile to find a rhythm with Tebow (and vice-versa), as he only hauled in seven catches during his first six weeks as a starter. But he finished the season strong, catching 25 passes in the season's final five weeks. That all led to the postseason, where Thomas set a handful of NFL playoff records with his four-catch, 204-yard performance against Pittsburgh. He had six catches for 93 yards against the Patriots.
Contract Status: Signed through 2014; unrestricted free agent 2015
2012 Outlook: There perhaps isn't a brighter outlook for any Broncos player in 2012 than there is for Demaryius Thomas. Marred by injuries his first two season, if he can stay healthy, the sky really is the limit for this third-year player. His infamous 80-yard Stiff-Arm was a microcosm of the traits Thomas can display to take him to the top: he has the size, speed, and strength to take on any defensive back in the NFL. If he stays healthy and works with Tim Tebow during the offseason, 2012 will be a big year for Thomas.
As always, we invite you, the readers, to participate. Are you excited by Thomas taking on the role of #1 WR in Denver, or do you still have your doubts?

Loading ...
We hope you enjoy these posts as BroncoTalk develops a one-of-a-kind fan-powered Denver Broncos roster on the web.