Posted Tue Feb 7th by Monty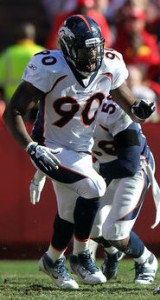 Name: Jason Hunter
Height, Weight: 6'4″, 271
Position: Defensive End
Age, Experience: 28, 7
College: Appalachian State
Jason Hunter has had a lot expectations placed upon him in his two years with the Denver Broncos. A defensive end his entire career, Hunter was asked to switch positions in 2010 to outside linebacker when he signed with the club as a free agent. At the time, he admitted it was going to be a "huge challenge", but he rose to it, tallying 61 tackles and three sacks in 12 starts as one of the relatively bright spots on a dismal defensive year in Denver. Then, in 2011, the Broncos asked Hunter to move back to DE. (Oh, and they also asked him to heal quickly following the stabbing injury caused by his girlfriend.)
2011 Analysis: Hunter started in two games in 2011 — the two games Elvis Dumervil missed in Weeks 2 and 3, which tells you all you need to know about Hunter's role. He was the primary backup for Doom at RDE and played predominantly there. He didn't miss a game, tallying 25 tackles and one sack including the postseason. Of note: Hunter's largest production came early in the year; for the 11 weeks between the Broncos' bye and the end of the regular season, he had only seven tackles.
Contract Status: Unrestricted free agent 2012
2012 Outlook: Hunter has voiced his desire to remain with the Broncos.
As always, we invite you, the readers, to participate. Should the Broncos bring Hunter back or look elsewhere?

Loading ...
We hope you enjoy these posts as BroncoTalk develops a one-of-a-kind fan-powered Denver Broncos roster on the web.