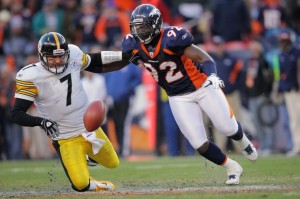 Name: Elvis Dumervil
Height, Weight: 5'11", 260
Position: Defensive End
Age, Experience: 28, 6
College: Louisville
Elvis Dumervil, nicknamed Doom by adoring fans, will be entering his sixth year with the Denver Broncos in 2012. A fourth round draft pick by Mike Shanahan's Broncos in 2006, Dumervil was considered a risky pick. While he possessed tremendous pass rush skills in college and always demonstrated the ability to get to the quarterback, he is significantly shorter and lighter than the prototypical sack artist. At under six feet tall, most offensive linemen tower over him by five inches or more. However, in the mold of Dwight Freeney, Dumervil started 13 games his rookie season and compiled 8.5 sacks by being a tenacious pass rusher.
Early in his career, Dumervil played only situationally as he was considered weak against the run. However, his pass-rushing skills proved exceptional due to his long arms giving him superior leverage against offensive linemen. This more than makes up for his diminutive (by NFL standards) stature, giving him a great ability to get under blocks and slip through even talented opposing linemen's arms.
In 2009, Dumervil lead the league with 17 sacks and was one of the few bright spots in an otherwise painful season that started out with six straight wins in Josh McDaniel's first year as head coach, but then saw eight losses in the next ten games, ending the season at 8-8. That off-season, Dumervil was signed to a record-setting $61.5 million extension with $43.1 million guaranteed. Only a month after signing to big money, Doom tore a pectoral muscle early in training camp and had to be shelved for the entire 2010 season. Without Dumervil in the lineup, the 2010 Denver Broncos' defense was atrocious and was last or nearly last in the league against both the pass and the run.
2011 Analysis: Dumervil had a slow start in 2011 as he came off the injury. This was completely expected, because the type of injury he received takes longer than a season to fully heal, and Dumervil relies very much on arm strength and flexibility to do his job. By mid-season he had shaken off the rust and, working on the other side of Von Miller, the #2 overall pick in the 2011 draft, Dumervil regained his form and finished the season with 8.5 sacks to complement Miller's 11.5. As Dumervil has grown, he has become an every down player, getting his run defense good enough to be on the field at all times.
Contract Status: Signed through 2015
2012 Outlook: With 2011 an injury recovery season for him, Dumervil is now at the height of his career. The next two or three seasons should see some of Doom's best play as he is able to take advantage of his natural gifts as well as five solid years of on field experience. In addition, getting Von Miller to pass rush on the other side means opposing offenses have a real quandary about how to stop the two of them from getting to the ball.
Any good defensive coach will tell you that the pass rush is the heart and soul of any defense, and if that's true, then we might be able to say that Dumervil is the heart and Miller is the soul, and the two of them together are enough to give any opposing quarterback pause for several years to come. There is absolutely no question that any snap in which Elvis Dumervil is not on the field, the opposing offense faces a weaker defense than when he is on the field.
As always, we invite you, the readers, to participate. Do you think Elvis Dumervil is one of the Broncos key players in 2012 and the future?

Loading ...
We hope you enjoy these posts as BroncoTalk develops a one-of-a-kind fan-powered Denver Broncos roster on the web.