Posted Wed Feb 1st by Monty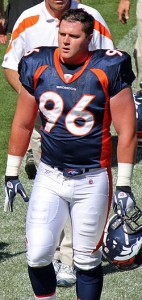 Name: Mitch Unrein
Height, Weight: 6'4″, 291
Position: Defensive Tackle
Age, Experience: 24, 2
College: Wyoming
Every NFL team aims to have young, developmental projects that also serve as rotational players across the defensive line from year to year; Mitch Unrein proved to be such a commodity as an undrafted first-year player for the Denver Broncos in 2011. Unrein (UN-rhine) was the lone homegrown crop in the Broncos'Â plantation in 2011. An Eaton, Colorado native, Unrein worked to gain 30 lbs. over his first 18 months in the NFL (beginning on the practice squad of the Houston Texans), finally having been rewarded for his efforts by a spot on the Broncos' roster straight out of training camp in 2011.
2011 Analysis: As a rookie in 2011, Unrein was part of the Broncos' defensive tackle rotation and tallied eight tackles in 14 games played. He opened the season with a bang, tallying two tackles against the Oakland Raiders in Week One, an immediate payoff for working so hard over his previous 11 months in Denver. In college at Wyoming, he was a three-time All-Mountain West selection, where he started every game during his final two seasons for the Cowboys.
Contract Status:Â Signed through 2012; Exclusive Rights Free Agent in 2013
2012 Outlook:Â Unrein has added over 75 pounds to his frame since entering college, but at 291 pounds, one wonders whether he can continue to develop into the nose tackle position. The Broncos were thin at DT in 2011, giving Unrein the opportunity, and the undrafted rookie made as much as he could of it. Learning DT is as hard as learning any position as a rookie, but was Unrein's season enough?
As always, we invite you, the readers, to participate. Did you see enough from Unrein in his first year, or are you eager to look elsewhere for DL depth in 2012?

Loading ...
We hope you enjoy these posts as BroncoTalk develops a one-of-a-kind fan-powered Denver Broncos roster on the web.