Posted Fri Dec 16th by Monty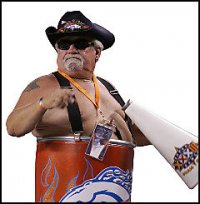 I want to encourage everyone in the Denver area to attend a fun, worthwhile Denver Broncos event tomorrow, Saturday, December 17, at Sports Authority Field at Mile High. Barrelmania Day 2011 is an event being run by Becky McKernan, the widow of Tim McKernan AKA The Barrel Man. Their Barrels of Love foundation aims to provide for less fortunate families; their website is at BarrelsOfLove.net.
The event is being held inside the office suits of the stadium, in the Colorado Sports Hall of Fame. More information, including cost ($5 in advance plus a wrapped gift) is available here. There's also a nice black tie event planned thereafter.
I've volunteered to help Mrs. McKernan and so am excited to be trekking from Arizona tonight to make it to the fair tomorrow. See me rocking a classic #56 Al Wilson jersey and say hello. Hope to see you there!