Posted Mon Dec 5th by Monty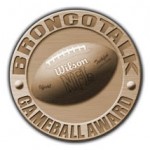 The Denver Broncos won their fifth straight game and tied the Oakland Raiders for the AFC West lead with their 35-32 win in Minnesota Sunday. It was another thrilling come-from-behind victory for Tim Tebow and company. BTer's, let's dish out game balls.

Mario Haggan
Replacing the injured Von Miller, Haggan did a great job filling a void on Denver's defense. He didn't provide a pass rush like only Miller can, but Haggan finished the day with 12 tackles (which was a team high) and recorded a 16-yard interception return for a touchdown giving the Broncos an early 7-3 lead. My game ball this week goes to Haggan. – Jon Heath

Tim Tebow
The Vikings, who may well be a better team than their record indicates, set out to make Tebow win the game with his arm. In the first half of the game, it really looked like this was a defensive strategy that was going to work. Then, after halftime, something funny happened. The offense went back to a mostly normal, pro-style offense. And Tim Tebow won the game with his arm. 10 of 15 for 202 yards and two touchdowns and a 149.3 passer rating, and a ton of it…from the pocket?! To be fair, apparently the Vikings didn't think they had to cover Demaryius Thomas and he got not just open but really wide open at least four times. But then again, Tim Tebow is supposed to be uncomfortable and inaccurate when throwing inside the pocket. He only rushed 4 times for 13 yards. On a day where it looked like a defense had finally figured out how to contain the option read and zone read thing, Tebow took advantage of a weak secondary that wasn't getting any help because the Vikings kept 8 in the box all night and contained the perimeter. Plus, another miracle final drive to get down the field and give Matt Prater a chip shot to seal the game. – E. Halsey Miles

Willis McGahee
The Vikings sold out to keep Tim Tebow from running, but it didn't work so well on McGahee. He had his 6th 100 yard game of the season, running for 111 yards on 20 attempts. McGahee wasn't terribly successful running in the first half, but when the second half opened he was like a ghost, slipping through miniscule holes in the defensive line for 8 over and over again, wearing down that Minnesota defense which was selling out to contain the edges and leaving just enough of a hole in the middle that McGahee was able to take advantage. With a 5.6 average and a long of 24, games with numbers like that from McGahee are always going to be competitive. It's been years since we've seen a Denver Broncos running game look this good. – E. Halsey Miles

Andre Goodman
Yes, the 33 year old got burned for a couple of maddening first downs. That being said, the measure of a player should not be his mistakes alone, but how he responds to these transgressions. It is safe to say that Goodman responded very well. I will be the first one to admit that I was calling for his head after Devin Aromashodu kept beating him out. However, Goodman would refuse to make those mistakes define him. When the game is on the line, Andre Goodman makes the plays that really matter. – Mr. East

DeMaryius Thomas
We have all been waiting on a game like this from Thomas for awhile and if he can continue to grow, it will only help Tebow's development as a passer. His 144 yard 2 TD performance could be the catalyst Thomas needs to get his career going if he can remain healthy. If Thomas emerges the way Eric Decker has, the Broncos may have their next versions of Eddie McCaffrey and Rod Smith. Multiple reliable receiving threats would take some pressure off the run game and allow Mike McCoy to be even more creative. That would be bad news for the rest of the AFC West. – Kris Burke

Special Teams
Wow, Britton Colquitt: 6 punts for an average of 51.2 and a net of 48.8 against one of the best special teams in the league. The only mark against special teams is the Matt Willis whiff where he didn't realize the ball was coming down so far over and he was trying to block for Royal and instead blocked INTO Royal and took him out of the game. But the team kept the ball there, and punt after punt, the team made the tackles. I'm a fan used to seeing Broncos special teams cruise down the field, and then the first two guys miss while the returner finds a crease, and this years team is just not doing that. It's amazing. Can we keep this special team, year in and year out? Because this kind of play on this unit gives opponent's offenses long fields and our offense short fields, and that puts the odds much more in our favor. – E. Halsey Miles

Matt Prater
Making game-tying and game-winning field goals week after week isn't easy from any distance (just ask Dan Bailey). But Matt Prater has answered the call that Tim Tebow, Mike McCoy, Dennis Allen, and John Fox have conveyed. "We're going to play run-heavy, mistake-free Fox Ball. The games are going to be close, and we need you to be ready." Prater has had a few misses this season, but like every Bronco this season, he's been money when it counts. – Monty
Honorable mention: Defense
Denver Rushes + Denver pass attempts combined = 47, the number of pass attempts taken by Christian Ponder. Talk about an uneven control of the game, because the Vikings had an additional 30 rushes and a single pass attempt by Webb in a wildcat that took us by surprise. 31 more offensive plays than the Broncos, and we still won the game. Kudos on our defense for managing to play the game for 78 snaps. They were definitely wearing down at the end there, but they were still playing and still trying, and Andre Goodman, who was a bit of a goat for getting beat by Aromashadu all night, had an "I'll take it all back" moment with his game-sealing interception. – E. Halsey Miles
Who gets your game ball folks? Take the poll and dish it out in the comments.

Loading ...