Posted Mon Nov 7th by Monty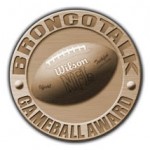 There's nothing quite as sweet as beating the Oakland Raiders by double-digits on their turf. Not only was it an impressive win, it was an impressive team win — a number of Broncos really stepped up and contributed, and it's our honor to honor them with a bevy of BT Game Balls.

Willis McGahee
I hereby irrevocably declare the phrase "Tough as nails" to be dead. It's played its course. "Tough as Willis McGahee" will be the new standard.
The Broncos' 30-year-old running back had surgery on his hand less than two weeks before Sunday's match in Oakland, but that didn't slow the first-year Bronco down. The fresh-legged McGahee outran Raiders defensive backs in his 60-yard scamper for a touchdown in the third quarter as he totaled 163 rushing yards on the day.
McGahee had help — both of his touchdowns came on well-executed read option plays with Raiders defenders paralyzed by fear of Tim Tebow taking advantage of the edge (more on Tebow in a bit). But stop and consider the Broncos' production with McGahee compared to their offensive output without him. In Week One against Oakland, Knowshon Moreno got the start, and the Broncos were held to 38 rushing yards. Last week, with McGahee out with his injury, the Broncos struggled mightily on offense, not acquiring a first down for over two quarters. Then, in Week Nine, McGahee starts, and the Broncos find they don't need to throw the ball at all for the last 22 minutes of the game. Willis McGahee is your 2011 First Half of the Season MVP, folks. – Monty

Tim Tebow
What Tebow had to do was go out there and win the game. And I have to say, he did that. His pure statistics weren't that good, and I saw a couple of pretty bad passes early on. But that said, he did the single most important thing he had to do to keep the team alive: He kept the chains moving. The Broncos had very few three and outs. He got them out of 3rd and long situations. It is clear that Fox/McCoy and Tebow are getting a little more comfortable. Keeping the offense on the field meant the defense spent less time on the field. The Broncos won the Time of Possession game at almost 32 minutes to the Raiders' 28.
But more than that, he threw some pretty sharp passes. A lot of them came on broken Raiders coverage, but some of them were just good NFL passes.
This is exactly the step Tebow needed to make this game. He needs to make a lot more steps like this; but we take them one at a time, and we give credit where credit is due when he makes them. Good job, Tim! – E. Halsey Miles

Eddie Royal
After having a miserable game against the Lions Eddie Royal showed some good production against the Raiders. Two catches and 1 for a big time touchdown. If he can put out production consistently it will help this team fill the void of Brandon Lloyd while waiting for Demaryius Thomas to come along. Then the 99 yard punt return for a touchdown. It seems like whenever Royal goes off for scores in the special teams column the team comes away with important victories against our rivals. Chargers anyone? Someone please remind we why we have Cosby returning punts. – Josh Temple

Champ Bailey
He had a few occasions where receivers caught passes on him and recorded some YAC, but overall Bailey had a stellar day. I literally laughed at Raiders quarterback Carson Palmer when he tried to throw a fade pass against Bailey — how can a veteran quarterback be that stupid?
Bailey finished the game with two tackles, two interceptions and a forced fumble. After today's performance, he certainly deserves a game ball. If he keeps playing at such a high level, I expect he'll wind up in Hawaii at the end of the season for an NFL-cornerback record eleventh time in his career. – Jon Heath

Von Miller
The stat sheet doesn't show it with 4 tackles and a 1/2 a sack but Von had a stellar game against Oakland. Multiple pressures on Carson Palmer, was the real cause of Dumervil's 1.5 sacks but where he really started to shine was the run game. He took a serious step towards being an every down linebacker on Sunday. He's sniffing the ball out, breaking up blocking schemes and showing that Allen shouldn't even think about making him a rotational player. – Josh Temple
Honorary mentions:
The offensive line for a great day of blocking. You don't get to nearly 300 rushing yards as a team without some hugely effective blocking from the guys up front. Ryan Clady could hold a bit less, though. – Monty
Chris Harris. I really wanted to throw another game ball at Chris Harris for his job at not allowing Michael Bush to break past the 2nd level when the linebackers broke down. Look at his total tackles on the stat sheet. I'm really starting to like this kid as a free agent pickup. – Josh Temple
Elvis Dumervil. 1.5 sacks. Good to have you back, NFL Sack King, keep em coming. – Monty
Who gets your game ball? Take the poll and dish it out in the comments.

Loading ...