Posted Mon Sep 19th by Monty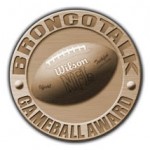 I love me some BT Game Balls, because that means the Denver Broncos won the day before. One of our longest-running columns returns following the gritty 24-22 win Denver pulled out against the Bengals Sunday. Alright staffers – WHO YA GOT?!

WR Eric Decker
I know he wants that fumble back, but he came through when there weren't really any other options to throw to. This was his opportunity to shine, and he did that in a big way — five receptions for 113 yards and two touchdowns. -E. Halsey Miles

Coach John Fox and Offensive Coordinator Mike McCoy
Tebow asked to work with the scout team offense this week in practice as wide receiver instead of just stand around, and the Denver's coaching staff told him to be ready in case of injuries. The Broncos used him several times in the game Sunday as receiver. Tebow didn't record any statistics but he did keep the defense on its toes and block well on running plays. Kudos to Fox and McCoy for finding a way to get him on the field. -Jon Heath

P Britton Colquitt
This may be the best punter we've had in Denver in over two decades. In a game dominated by a field position chess match, having Colquitt improved matters greatly. Hitting an 82 yard punt out of your own end zone to then have it called back on one of the strangest uses of "unsportsman like conduct" I've ever seen and still stay composed and boot it 57 into opposing territory is impressive to say the least. Compare that to Atlanta's Matt Bosher who was in the same situation (punting out of his own endzone) in a tight match and muffing it for 30 yards. You might as well have gone for it on 4th and 8 with the Eagles offense taking over. Britton finished the day with an average of 51 yards and a long of what should've been 81 but ended up being 59. Well done special teams, well done. -Josh Temple

DE Robert Ayers
Seriously, that one play (fourth down pressure to force the first Cincinnati turnover on downs in the fourth quarter) was a pivotal play. Great great job. -E. Halsey Miles

LB Von Miller
He recorded his first NFL sack and had (at least) one sick tackle for loss, but more importantly, Miller repeatedly demanded double-teams. The double teams culminated in the defense's coup de' tat, Jonathan Wilhite's huge sack in the fourth quarter. As Miller said after the game: "They've got to pick one of us (to block). Most of the time they pick me." … The Broncos are already receiving huge dividends from their first round draft pick — something they haven't been able to say since Ryan Clady in 2008. -Monty

RB Willis McGahee
A run game? Really? We have one? I kept looking at the numbers waiting for the hallucinations to stop. 101 yards was the best rushing output a single back has offered in Denver in years, and McGahee ran tough to earn each and every one. -E. Halsey Miles
For the record: Coach John Fox received Sunday's game ball for his first victory with the Broncos with a severely injury-hampered team. Your game balls in the poll and comments!

Loading ...