Posted Sun Sep 11th by Monty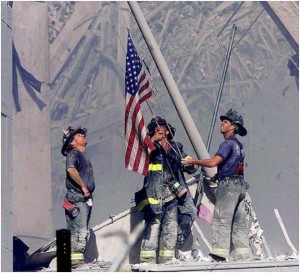 I can't speak of the pain felt by those who lost loved ones on that tragic day. I can't relate to the personal tragedies. But I know the overwhelming burning I felt in my heart. Of humility, awe, sadness, anger, and courage. It brought with it an undeniable affirmation of what America meant to me. I know it was a sensation shared by millions of others that day.
Today we remember the courage and legacy of those lost ten years ago, and those who serve our country since and now. Thank you. We stand united behind you. We will never forget.
The Broncos have released a number of notes to fans planning on attending Monday's game, including information on their planned tribute to 9/11. View those below.
The Broncos encourage all fans to arrive to the stadium and be in their seats 30 minutes before kickoff (7:50 p.m.). Premium gates will open at 5 p.m. and all other gates will open at 6 p.m.
Pre-game entertainment will include a 9/11 tribute, singing of America the Beautiful and the Parade of Colors with Army, Navy, Air Force, Marines, Coast Guard, Police & Fire participation.
All fans in Broncos Country are being asked to participate in a group singing of the National Anthem as a special tribute to the victims of 9/11.
The Broncos are excited to welcome former running back and Ring of Famer Terrell Davis to the game for the opening coin toss.
The team will be in their orange uniforms, and all fans are asked to come dressed in orange.
Fans attending the game will receive an orange rally towel, courtesy of game day sponsor Bud Light, an American Flag and a Sports Authority Field at Mile High window cling.