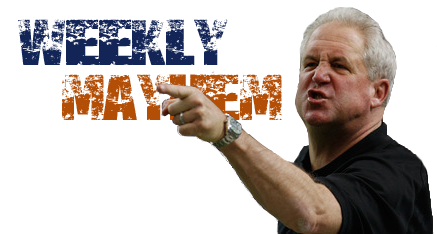 Football is back. Tonight NBC is serving up a feast for our eyes as two NFC titans battle it out in the first game that really matters. However, tonight is just a tease.
Sunday will provide a plethora of touchdowns, turnovers, tackles, and possibly tears.
The Colts will face the up-and-coming Texans without Peyton Manning for the first time since 1998. A classic showdown will take place between the Ravens and Steelers, with Big Ben in the line-up this time. Atlanta will look to prove everyone in-fact a legitimate contender for a Super Bowl against a Chicago team lead by Jay Cutler, who also has a thing or two to prove. This Week one is looking to be good.
New Orleans at Green Bay
Will the champs look sharp heading into the season? Probably. However, if the Saints' run game can get some momentum, the Packers will have a tough time winning. With Mark Ingram and Pierre Thomas sharing the rock and Drew Brees still at the helm, the Saints will be scary this year.

Final: Saints 31, Packers 24
Pittsburgh at Baltimore
Is the Steelers' defense aging? Yes, but we all are too. The Ravens have an extremely inexperienced secondary and Mike Wallance, Hines Ward, Emmanuel Sanders, and Antonio Brown are going to be a tough group to handle, especially with Rashard Mendenhall in the backfield.

Final: Steelers 17, Ravens 14
Atlanta at Chicago
Atlanta has a lot to prove this season. They showed everyone that they can move the ball, but they haven't proved they can stop it. Will the Ray Edwards signing help? It will help enough to beat the Bears.

Final: Falcons 27, Bears 20
Cincinnati at Cleveland
Mike Brown wouldn't trade Carson Palmer despite drafting Andy Dalton. The Bengals are in serious disarray. Everyone thinks the Browns will improve this year, and they'll show it this game.

Final: Browns 24, Bengals 13
Indianapolis at Houston
Mike Florio of PFT said it the best. The Colts couldn't beat the Texans in the Week one last year with Peyton Manning. What makes them able to do it this year without him? Forget that status of Arian Foster. Backups Ben Tate and Derrick Ward are more than capable of sharing the burden of the starter.

Final: Texans 21, Colts 14
Tennessee at Jacksonville
The Post-Garrard era begins, and it won't be pretty. Luke McCown is not a starter in this league and neither is Blaine Gabbert right now. Maurice Jones-Drew has concerns with his knee and Rashad Jennings won't be healthy to help out. The Titans have the opposite quarterback problem. Matt Hasslebeck is more than capable of holding the reigns while the very promising Jake Locker learns all he can.

Final: Titans 20, Jacksonville 7
Buffalo at Kansas City
This is my upset pick of the week. Deja vu. I've had this same upset pick before and it's burned me before, this time it's going to be different. Right? Kansas City is suffering from a sad preseason showing and some injuries in their offense. Buffalo isn't that best team out there, but Chan Gailey can get them playing competitive (see the Ravens and Steelers game last season). The Chiefs may still be the playoff team they were last year, but it's not looking good for them so far.

Final: Bills 13, Chiefs 10
Philadelphia at St. Louis
The Rams are contending for the division this year, but the Eagles are contending for the Super Bowl. Sam Bradford has his work cutout for him going up against that killer secondary. The Rams receiving corps has not been absolutely phenomenal either. The Eagles may stumble and fall this game, but they can still squeak out a win.

Final: Eagles 30, Rams 24
Detroit at Tampa Bay
The battle of the sleepers. The battle of the young quarterbacks. This game looks to be real good. Last season it was Tampa against the world.  The Buccaneers where a 10 win team last year with no playoff appearance. Whereas, everyone expects them to compete for a wildcard spot, and even possibly the division. Will Tampa Bay be able to perform with the pressure on? Who knows, but I like the Lions for the upset. The Buccaneers are very weak at the offensive line and Ndomakong Suh is force to be reckoned with.

Final: Lions 20, Buccaneers 17