Posted Thu Aug 25th by Monty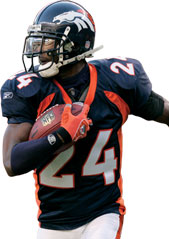 Michael Lombardi, "NFL Network Insider," has dropped a pair of "Blue Chip/Red Chip" pieces on NFL.com. The articles (offense/defense), which rank the NFL's premier players by position, gives the cream of the crop a "Blue chip" rating (usually 5 guys) and the next tier of players a "Red chip" rating (5-10 more).
In other words, this is a Top 10 Players by Position list, wrapped in a poker metaphor.
Well, the Denver Broncos just busted out. Not a single Broncos athlete is a blue chip or red chip player, according to Lombardi.
No Brandon Lloyd. No Ryan Clady. No Elvis Dumervil.
No Champ Bailey. 
The Broncos certainly aren't that devoid of talent, correct? This must have been an oversight on Lombardi's part, right? Dumervil's absence is explained (he's a tough player to categorize), but the other three are omitted and not mentioned.
No oversight here, folks. Lombardi insists all Broncos players were considered, by himself and NFL Network colleague Brian Baldinger. We took our critique of these players being missing to Twitter and Lombardi replied: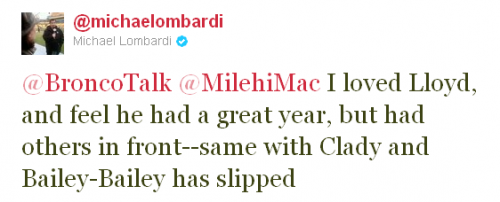 Slipped out of Best Cornerback in the League status? Maybe. Slipped out of the Top 15? Ridiculous.
That's right, Lombardi has these 15 cornerbacks valued higher than Champ:
Blue Chips
Darrelle Revis, Jets
Nnamdi Asomugha, Eagles
Charles Woodson, Packers
Aqib Talib, Buccaneers
Devin McCourty, Patriots

Red Chips
Leon Hall, Bengals
Antonio Cromartie, Jets
Asante Samuel, Eagles
Brandon Flowers, Chiefs
Tramon Williams, Packers
Brent Grimes, Falcons
Jonathan Joseph, Texans
Vontae Davis, Dolphins
Quentin Jammer, Chargers
Charles Tillman, Bears
Antonio Cromartie over Champ Bailey?! CHARLES TILLMAN?!! That's laughable. The three most avoided cornerbacks in football are Darrelle Revis, Nnamdi Asomugha, and Champ. Cromartie plays opposite one of them, surely had more targets, covered #2 receivers, and had only one more interception than Champ last season.
One can only imagine the numbers Bailey would tally playing opposite Revis (and vice-versa).
You can read both lists in their entirety in the links provided, but needless to say, Lombardi and Baldinger, in all of their scouting prowess, do not have a high opinion of many (any) Broncos players.
That's our take. We respect the hell out of Lombardi for responding to us on Twitter and recognize that's what these lists are about — to debate and discuss and consider another's point of view. We really can't disagree with Lombardi loudly enough, though. These are some massive oversights. As objectively as possible, we say the Broncos are not this bad. We're looking forward to this supposedly talentless team surprising a lot of people this year.