Premature reports that surfaced yesterday saying Willis McGahee had signed with the Broncos may have just been a few days early.  Fox31 reporter Josina Anderson says there has been some progress made.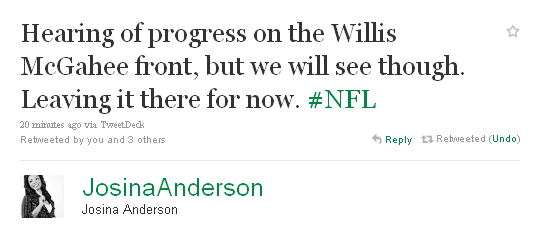 Shortly after Josina's tweet, Mike Klis of the Denver Post reported that McGahee would be visiting the Broncos either tonight or Sunday.  According to Klis, the Broncos want to take a look at McGahee and give him a physical before finalizing a deal.
It appears that only formalities remain before McGahee is officially a Bronco, which would solidify Denver's backfield.  Joining up with fellow backs Knowshon Moreno, LenDale White, Lance Ball and Mario Fannin, McGahee would become part of Head Coach John Fox's running-by-committee approach.
According to regular practice observers, Denver has been practicing a lot more running plays this training camp than in year's past.  Fox is known for producing productive rushing attacks, so it is expected the Broncos running will vastly improve from last season.

Klis' report also said Denver is making progress in their efforts to re-sign defensive tackle Marcus Thomas.  Denver has yet to sign a defensive tackle in free agency that did not play for the team last season.
Here's hoping McGahee signs and the Broncos acquire a defensive tackle before they all sign elsewhere.