Orton Has Yet to be Moved, Practices with First Team Offense – A deal hasn't been reached to ship Kyle Orton to Miami. Â Word is that Denver wants a 2nd or 3rd pick and the Dolphins are offering lower. Â Kyle was told to report to camp and has been taking reps with the first team with Tebow and Quinn mixed in relief. Â Now comes the second guessing. Â It's being said the front office will want to move the QB before tomorrow due to salary cap restrictions. Â Raising the question, should Elway and company fold their hand take what they can get rather than cutting Orton outright to free up cap space?
The Team Has Started Signing Rookies Left and Right – Â Last night the Broncos agreed to terms with Tight End Virgil Green on a 4 year deal. Â They added the other TE, Julius Thomas and Cal Linebacker Mike Mohammad shortly thereafter. Before shutting off the lights they locked up Oklahoma Defensive End Jeremy Beal. Fast forward to this morning and the team added Middle Linebacker Nate Irving and Offensive Tackle Orlando Franklin to the roster with a pair of new contracts. Â Where it gets interesting is that two of the signings are already being placed as starters on the practice field this morning according to MaxDenver.com. Â Mike Mohammad was spotted at starting strong side linebacker. Â Orlando Franklin has also been given the starting Right Tackle position for the moment.

Broncos and Colts Battling for DT Muir's Services – Thank you to a few of our readers that pointed out this blog update from Jason La Canfora. Â The Broncos and Rams are both interested in signing the former Indianapolis Colt Defensive Tackle Daniel Muir. Â Muir started all the regular season games with Indy last season and would be a solid fill in for Denver.
Denver still in the Fold for Mebane – It's being reported that Denver is still one of the teams being considered by Defensive Tackle Brandon Mebane. Â DT is the biggest hole on the depth chart this morning so this could be a key signing if the Broncos could land the sought after veteran. Â They will have to best offers from the Seahawks who are also in desperate need of interior linemen and the New Orleans Saints along with a few unnamed teams.
Renaldo Hill Missing – Safety Renaldo Hill was missing off the practice field this morning due to an "undisclosed medical issue". Â Not exactly the start you want when you need to lock down your position from two competing rookies. Â Nate Jones also received a contract and was back on the field today.
Orange & Blue Chasing TE Fells – It's not a Kevin Boss or Zach Miller signing but the Broncos are trying to get a contract on free agent tight end Daniel Fells. Â Fells is a 272 beast of a TE who played in St. Louis last season. Â The Cowboys are also reported to be in the mix.
Stokley Backs Off Reunion with Shanahan – Former Bronco wideout Brandon Stokley has backed off signing a deal in Washington D.C. to be coached by Mike Shanahan once again after the flurry of wide receiver pickups the Redskins made yesterday. Â Nobody ever accused the guy of being dumb.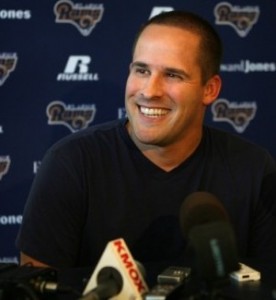 Breaston to the Chiefs – The division just got that much more difficult. Â Former Cardinal Steve Breaston signed a 5 year deal with the Kansas City and play for his old coordinator Todd "I don't shake hands" Haley. Â This gives KC a legitimate 2nd receiver to go opposite Dwayne Bowe.
McDaniels Holding Offensive Crash Course – Our readers don't want to hear a thing about Josh McD. Â Too bad, we're going to keep you informed anyway. Â One of the biggest concerns across the NFL concerning the lockout was 2nd year QB Sam Bradford and the St. Louis offense having to learn "one of the most complicated" offenses in the league, that of Josh McDaniels. Â To help them get up to speed the former Broncos coach is holding a three day crash course.
*Keep checking in with Bronco Talk for additional breaking news and free agency rumors.