Quarterback Jake Delhomme has been released in Cleveland according to various reports. Â He was due to receive $5.4 million in base salary this season so releasing the veteran with a very roller coaster career and re-signing backup Seneca Wallace was a natural decision for the Browns front office.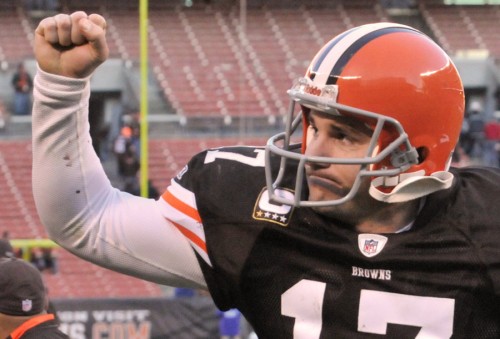 Many NFL analysts have speculated on Delhomme landing in Denver as a veteran mentor for Tebow with Kyle Orton on his way out of town. Â  Brady Quinn can and probably will be a viable backup moving into the near future but he isn't what we could call a veteran friend of the starter a la Mark Brunell in New York.
Jake would most likely be taking a huge pay to be a Bronco, but there isn't likely to be much of an interest in an aging QB that can't seem to produce consistently late in his career.  However, he could be a welcome addition at a low, near minimum salary to help Tebow and for that matter Quinn learn the intricacies of the Fox/McCoy system.  How do you feel about bringing in the awww shucks QB from Carolina Bronco fans?