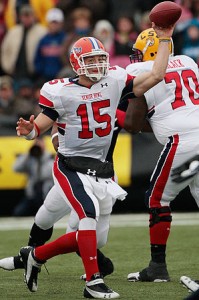 As Jon alerted us earlier today, Tim Tebow's documentary "Everything in Between" had its' first airing on ESPN tonight.  The short one hour film gave us a behind the scenes look of everything Timothy Tebow, from his post game rounds at last year's Sugar Bowl up until the moment he was drafted by our beloved Denver Broncos.
I was late getting home tonight after a long commute from the northern half of  Colorado.  (But anytime I get to pass by Mile High it's a great day)  Just finished my delayed showing via DVR.  I'm really curious what everyone thought.  I'll be sharing my impressions and welcome all of our readers to do the same in the comments. 
-First thought: Did Tebow hire Drew Rosenhaus as his agent?  And when did Rosenhaus decide to start dressing 20 years younger?  Then I realized that was his brother Robby.
-  The jaunt around the Sugar Bowl stadium:  Wow, TT zealots are really annoying.  Hey, I like the guy and am really excited to see how he develops as our starting quarterback.  I consider him our franchise QB of the future until he proves otherwise but people obsess over this guy way too much.  One thing we will have to endure as fans if Tebow does ultimately succeed in the NFL is that he is a polarizing force to the extreme.  There can be no sound judgment with the guy, either you follow him blindly or hate his guts.  You can't be skeptical or cautiously optimistic.  What's wrong with you?
-  The interview with his future agent Jimmy Sexton was interesting, especially in how Sexton went all in to land Tebow.  I raised an eyebrow when the criteria became signing with Tim meant he was your exclusive quarterback in the 2010 draft.
-  It put to bed the conspiracy theories that Tim had faked his illness at the Senior Bowl.  Yeah, that assumption is ridiculous, but haters gonna hate.
-  If you were fascinated by all of the player preparation and training leading up to the Senior Bowl, Combine, and Pro Day do yourself a favor and rent or Netflix "Watch Now" Two Days in April.  It's 90 minutes of this and draft day reaction.  A little slow, but good stuff. Plus you get to see what Bronco Ring of Famer Lionel Taylor is up to these days.  That was part of my problem with this documentary, it was basically of re-hash of that film.

-  By far the most interesting part for myself was the flight to Denver and interview at Dove Valley.  What's that I spy?  A Brian Xanders interview!  Seriously, I don't think I've ever seen the guy on film before.  It became fairly obvious that the drafting of Tebow was the project of McDaniels and X went along with it.  I really wanted to see more inside footage of the McD and Tebow love fest at his pro day we heard so much about.
I will admit that seeing the zoomed out footage of Josh working with Tim on the Gator field and making evaluations made me reminisce over the little guy a bit.  What might have been?  Snap back to reality, Josh had to go.
-It was seriously lacking in any coverage from the NFL combine, they dropped the ball on this one.

– I was slightly disappointed that the doc stopped at the exact moment Tebow was selected by Denver.  The excitement of Draft Day carried over into the film and really did make the final 15 minutes the best part.  I know they ended it at the selection for dramatic pause but  I really wanted to see the reactions right after and possibly even the following days.  Left something to be desired.
Give us a shout out in the comments and tell us what you thought.  I'd much rather follow up there.