In this post, I'm going to grade the performances of each of the Denver Broncos' 2010 rookies' seasons.  Grading two aspects, contribution to the team and the 'whatever is asked of me' attitude, I'll get my final grades on each rookies' season then ask you for yours.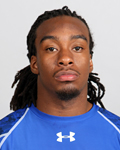 Starting with, 7th round pick (225 overall) Cornerback Syd'Quan Thompson, California.  (Please not that 7th round DE/LB Jammie Kirlew of Indiana isn't being rating because he was released before making any contributions on defense).  Scouted as a physical yet slow defensive back, Thompson was excited to fall in the draft but make a team due to his intangibles and his toughness.  The Broncos got both of those, plus versatility.  Contributing on special teams (returning a few punts and covering kickoffs) and defense, Thompson finished the season with 18 tackles and 2 interceptions.  He wasn't given a big role but took advantage of his opportunities.  Final grade: C+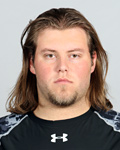 Next we have 6th round pick (183rd overall) Center Eric Olsen, Notre Dame.  The Broncos brought Olsen to add depth to an offensive line that went through a rebuilding period in 2010.  Listed as back-up left guard during the season, Olsen only dressed for one game this season.  While he did provide depth and a practice body, Eric didn't contribtue to the Broncos offense at all as a rookie.  Final grade: C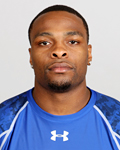 Following Olsen comes 5th round pick (137th overall) Cornerback Perrish Cox, Oaklahoma State.  Scouted as a huge sleeper with character concerns entering the draft, the Broncos may have gotten something special in Cox (provided he gets his act together and is allowed to play again).  In training camp, fellow cornerback Champ Bailey praised Cox and half jokingly said his job was in jeopardy.  The joke was reality for corner Andre' Goodman, who bothered by a quad injury for much of the season, didn't record one interception in 2010 — a season after leading the team with five in 2009.  Goodman's absence gave Cox the chance to start nine games as a rookie.  Although he was beat on occasion, Cox showed loads of potential and perfect cornerback technique throughout the year and made some nice plays on defense.  He finished the season with 59 tackles, an interception, 2 forced fumbles and 172 kickoff return yards off nine returns.  Final grade: C+ (His on-the-field performance I give a B+ but his off field actions caused me to lower his rankings due to its detrimental effect it could have on the team's image in the future if he is suspended and not able to play).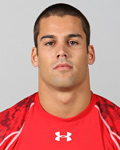 The next rookie, a 3rd round (87 overall pick) out of Minnesota, is a 23-year old rookie named Eric Decker.  An underrated player going into the draft (largely due to an ankle injury), Decker managed to recover from his injury and contribute to the Broncos as a rookie on offense and special teams.  A perfect example of a player who will do whatever is asked of him, Decker excelled on special teams, recording 9 stops while returning 22 kickoffs for 556 yards (a nice 25.3 yards-per-return average).  On offense, Decker did not get a lot of playing time until week twelve against the Rams.  In that game and over the next two weeks, Decker caught four passes for 84 yards.  In the Broncos season finale, Decker hauled in two Tebow passes for 22 yards and his first receiving touchdown as a Pro.  Decker finished the season with a 17.7 yards per catch average, the second best YPC average on the team, behind Brandon Lloyd's 18.8 average.  Final grade: B+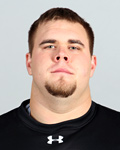 Up next is another 3rd round pick (80th overall) Center J.D. Walton.  Placed in the center of an offensive line that struggled in 2010, it would be easy to spit out some venom on Walton.  The truth be told though, Walton actually had a fairly good rookie season, all things considered.  Starting 15 games, Walton allowed just 3.0 sacks which was less than Clady (7.0), Beadles (6.o), and Kuper (4.0) permitted (tackle Ryan Harris allowed the least on the team with 3.25).  Showing potential as a rookie and being asked to anchor a poor offensive line as a rookie, Walton earns a Final grade of B-.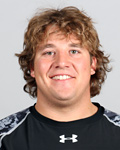 To the left of Walton throughout the season was 2nd round pick (45th overall) Guard Zane Beadles, Utah.  A versatile player, Beadles played tackle in college and made the transaction to guard for the Broncos.  Starting 13 games for the Broncos, Beadles showed discipline, being penalized only twice.  With a year under his belt, Beadles looks to improve in 2011 and should prove to be a solid guard for the Broncos. Final grade: C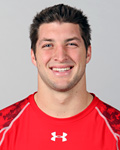 The second of the Broncos two 1st round picks (25th overall), is Quarterback Tim Tebow, Florida.  A polarizing subject among fans, scouts, and coaches, the Broncos made a lot of noise (and money) by drafting Tebow.  Although he was not asked to start until week 15 against Oakland, the Broncos found ways to use Tebow in the offense throughout the year.  Playing in seven games (starting three) Tebow went 41-of-82 for 654 yards, 5 touchdowns and three interceptions.  A dual threat, Tebow added 227 yards off 43 carries, scoring 6 times on the ground.  He could certainly use some fine tuning (particularly his footwork), and he made some awful rookie mistakes, but the kid's got it.  The heart, the drive, the play making ability, the leadership, the legs, the arm, the guns.  When he's in the game you feel like the team has a chance no matter what the score is (or at least I do anyway), and I believe the team feels the same way.  Final grade: B+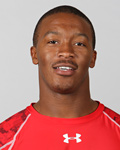 Rounding out the grading is 1st rounder (22nd overall pick), Wide receiver Demaryius Thomas, Georgia Tech.  Drafted by former Head Coach Josh McDaniels, the Broncos chose potential over production in drafting Thomas over Oaklahoma State's Dez Bryant.  Bothered by an ankle injury throughout much of his rookie season, Thomas only started in two games for the Broncos.  He finished the year with 22 catches for 283 yards and two touchdowns while adding 398 return yards off 16 kickoffs.  If he can stay healthy, Thomas may become a huge offensive threat for the Broncos down the road, but as a rookie, Thomas did next to nothing.  Final grade: C-
What do you think, agree with my grades, disagree?  Share your grades in the comments!