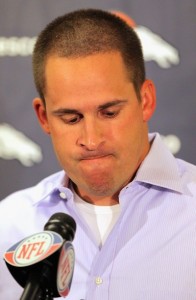 Less than two years after Pat Bowlen fired Mike Shanahan as head coach of the Denver Broncos, his wonderboy replacement Josh McDaniels was shown the door. With the rumor that the organization has researched whether or not it can fire McDaniels with cause over Spygate II, you can almost hear Mr. Bowlen saying "And don't let the door hit you on the ass on the way out, kid."
Josh McDaniels came from the Bill Belichick school of coaching. He wanted to do things his way, with his people, and he didn't want any dissension in the ranks. The funny thing is, Mike Shanahan had the same philosophy. Except that players who were yesmen to the Shanahan philosophy were pretty seriously on the outs in the McDaniels philosophy. Jay Cutler, for example, earned himself a reputation as a whiner when he called out McDaniels for lying about the safety of his job. On one hand, every player is always on the trading block for the right price, no matter what the coach tells you. On the other hand, the first thing a new head coach has to do is build trust within the organization.

There's one kind of trust that McDaniels' empire built: "My way or the highway." McDaniels had no problem getting rid of players he didn't see eye to eye with. Cutler didn't play a snap for McDaniels and instead he went to Chicago for the incredible return of two first round draft picks and Chicago castoff Kyle Orton. Shanahan favorites Mike Leach, Chad Mustard and Nate Jackson didn't even make it to training camp. And by the time we got to today, only 13 players on the active roster were with the team in 2008. To be fair, many of Shanahan's experiments were deep reaches and pretty serious busts.
The drafts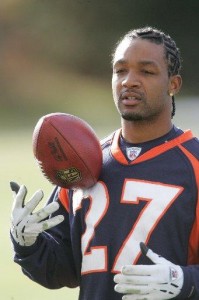 Which leads us to everyone's favorite topic, the draft. Coming into 2008, the Denver Broncos had a serious problem. That problem being that recent drafts had produced very little in the way of starting NFL players. The 2004 draft was full of busts, except for the very talented D.J. Williams. Of course, Williams never fully lived up to his rookie season. He is unquestionably a very talented athlete and a good player, but it's hard to be sure if he is the exceptional talent he seemed to be. But 9 other players from that draft went nowhere in the NFL.
2005 saw a short draft of just six players, three of them cornerbacks. Both Domonique Foxworth and Darrent Williams turned out to be starting caliber players. But Williams' life was tragically cut short (an event that may well have ultimately foretold the end of Shanahan's Broncos) and Foxworth was traded to the Falcons because there did not seem to be a good opportunity for him to start with the Broncos. Foxworth ended up playing for the Ravens, where he is not exactly excelling. The other notable pick from 2005, Chris Myers, is now the starting center for the Texans. Three other players from that draft are no longer in the NFL.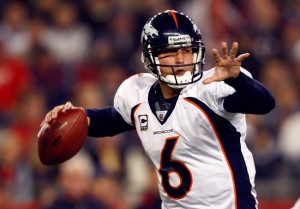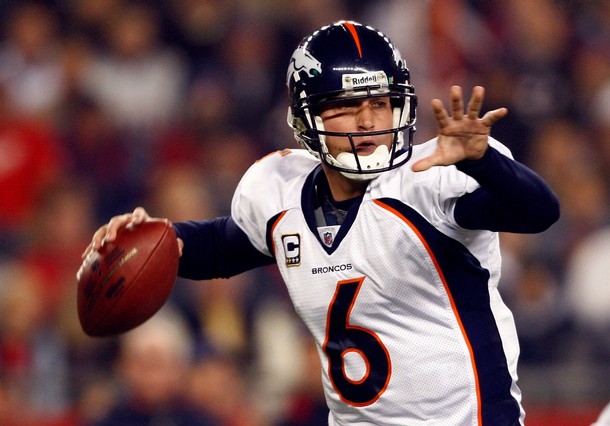 At the end of 2008, when Shanahan was fired, the 2006 draft looked to be the best draft for the team in a decade. Jay Cutler, Tony Scheffler, Brandon Marshall, Elvis Dumervil and Chris Kuper are all starting NFL players. Domenik Hixon also was a gem in that draft, but not a quality NFL receiver. He did eventually catch a winning touchdown in the Superbowl, though. Just not for the Broncos. In 2010, only Kuper actually started for the Broncos, and he has played through injury. Dumervil tore a pectoral muscle in training camp and was eventually placed on injured reserve. The Broncos' desperately hope he returns as he is considered the most effective player on defense. Perhaps after Champ Bailey, but Dumervil has a long career ahead of him, and while Bailey is not done and has several years remaining, he is past the prime of his career. Of this draft, only one player Greg Eslinger is no longer with the NFL. He had tremendous upside, but not the size needed to make it.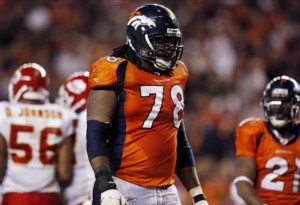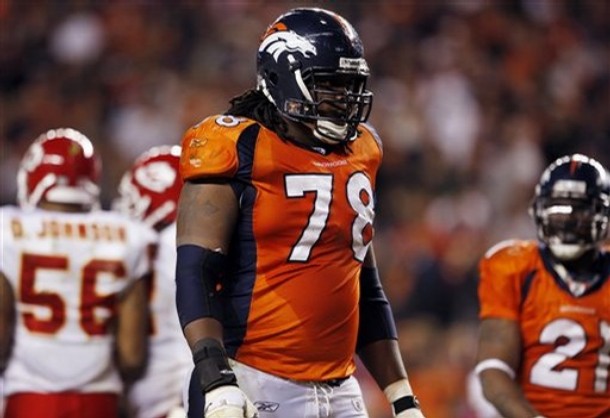 The 2007 draft had mostly been traded away because Shanahan needed veteran players to fill terrible holes made by poor recent drafts. Of those four players, Marcus Thomas and Ryan Harris are still with the team, though only Harris is a starter. Jarvis Moss only recently finally fulfilled his network announcer prophecy of the first round bust. As far as I can remember, almost nobody liked the trade up for Moss.
The 2008 draft turned out pretty decent as well. Ryan Clady, Eddie Royal and Spencer Larsen are starters for the team. Kory Lichtensteiger, Ryan Torain and Peyton Hillis are starters as well…for other teams. Despite that, Clady and Harris look to be able to anchor the tackle positions for years to come, which is a very valuable commodity that few teams have the luxury of enjoying.
2009
When Josh McDaniels took over the Broncos organization, he was left with an offense that had been doing reasonably well, but had vicious problems in the red zone. They put up more stats than points. The offensive line was tops in the league, but the running game had been a dismal failure due to the fact that every time a running back got onto the field, he got injured. In 2008, the Broncos put 7 different running backs on IR, including Ryan Torain who had been considered a possible successor to Terrell Davis in the Broncos' zone-block running system. To most fans, the offense looked like it needed, at most, some tinkering and some solid coaching. With Cutler at quarterback, Marshall, Royal and Brandon Stokley at receiver, the team looked solid at these positions. Stokley was getting a bit long in the tooth but still had good skills in the slot. Clearly there was room for a good rookie to rise to pair with Marshall while Royal would look to replace Stokes as a slot receiver. And there were open questions at back, but overall the offense seemed like it needed very little tinkering.
The defense, on the other hand, was a shambles. The defensive line had been patched together with the NFL equivalent of duct tape: The one year contract free agent. Failed veteran after failed veteran was brought in to try and provide some kind of spark to the line to generate a pass rush. The secondary had Bailey and Dre Bly who were an interesting team, though Bly's actual contribution to the team was questionable. In Detroit, Bly was a ball-hawking man cover specialist who needed good safety help if he lost his man, and the defense the Broncos ran did not offer him that. This caused him to get burned a lot, and it was hard to tell if it was him, the system, or both. And the linebacking core had never recovered from the release of Al Wilson, who for years had been the heart and soul of the Denver defense until a neck injury ended his career (despite Wilson's objections).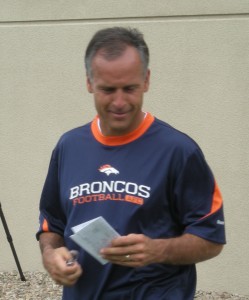 Popular opinion was that McDaniels needed to really focus on the defense and fix it. To his credit, he signed an array of free agents, but of 10 picks in the 2009 draft, only 4 of them were on defense. Still, Mike Nolan's defense did okay at first, but as the season wore on its weaknesses became exposed and teams were able to more easily beat it. The defense was considered a team in transition. Most understood the troubles of the defense, even as it slid from strong to mediocre to actively bad by the end of the season.
But where McDaniels really had trouble was the offense. Cutler, as noted earlier, never saw the field. Ultimately, Pat Bowlen got involved and granted Cutler's trade request. Instead of the big-armed but daring quarterback who was often compared to Favre (both at his best and at his worst), the Broncos would have Kyle Orton at quarterback. Orton was most known for being an adequate game manager for the Chicago Bears. He filled in for Rex Grossman and won his share of games, but few NFL observers thought Orton really was capable of being a starting NFL quarterback. McDaniels' specialty, though, was taking second rate quarterbacks and turning them into stars; his real name came when he made Matt Cassel look like a good replacement for Tom Brady in New England. Oh, and just to provide competition for Orton, the team brought in Chris Simms to be his replacement. Simms had been the struggling starting quarterback for Tampa Bay until he took a hit so hard he ended up losing his spleen. And while he gets iron man points for coming back from losing his spleen, he clearly no longer had what it took to be an NFL starting quarterback.
After starting the season with six straight wins, the 2009 Denver Broncos were finally starting to look legitimate. Even the nay-sayers were grudgingly admitting that maybe the boy wonder knew what he was doing after all. McDaniels' was winning, despite the offense not seeming to live up to its potential, and he wore his emotions on his sleeve. Old favorites Marshall, Scheffler and Hillis all stayed with the team, but they were all in and out of the doghouse. Marshall's home in the doghouse made sense because of his own off-the-field issues, but Scheffler and Hillis both seemed, to observers, like pretty high character players who could play. Yet neither of them seemed to make an impact. And after that fantastic first six games, the Broncos went on a losing skid and ended the season with only eight wins.
2010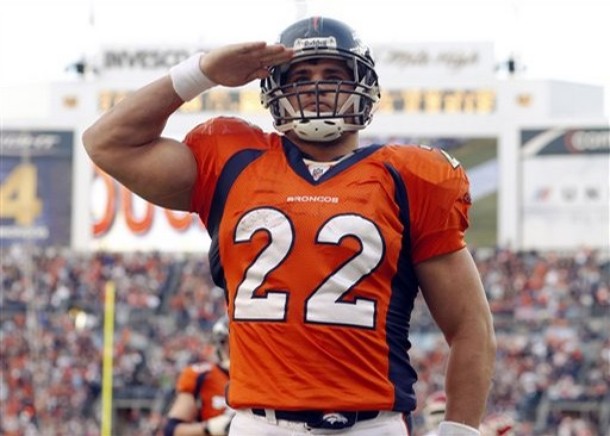 The 2010 off-season was tumultuous, to say the least. Mike Nolan moved on and while it was never overtly said, it seemed that the reason was because Nolan and McDaniels clashed on a fundamental level. Marshall, Hillis, Scheffler and his own draft pick, Alfonso Smith were all traded away. None met with the high prices that Cutler got, either. The best return the Broncos got was Cleveland Browns first round pick Brady Quinn for Hillis. Smith had been drafted in the second round, but a 2010 1st round pick had been traded away to do it. Of all of McDaniels' picks in the 2009 draft, there were no clearly elite players in the bunch. Robert Ayers had (and still has) potential, and as of right now Knowshon Moreno is finally starting to show some potential, but that's it. Darcel McBath and David Bruton are looking like they have enough skills to play, but are not amongst the elite. Richard Quinn looked to follow Smith out, but he's actually seen his playing time improve lately and for a change we are hearing his name in a positive light. But still not yet particularly successful for a second round pick. Seth Olsen, Tom Brandstater and Blake Schlueter aren't with the team anymore, and Kenny McKinley tragically took his own life after an injury that was probably career ending. McKinley marks the 3rd tragic player death for the Broncos in just 4 years.
Because the defense had collapsed mid-season and was filled with largely aged veterans and middle-aged mediocre veterans, popular opinion, again, was that the 2010 draft would be heavy on defense. 2009 defensive rookies were looking dubious at best, so fresh young talent seemed critical. Popular opinion would be even more wrong than in 2009, however. In the 2010 draft, the first defensive player drafted came in the fifth round. All told, the Denver Broncos drafted two cornerbacks and a seventh round defensive end. For a team whose most glaring needs were at linebacker and the defensive line, this draft caused a lot of consternation and head-scratching from fans and observers.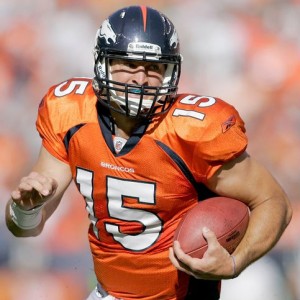 Even stranger, on offense Josh McDaniels drafted controversial but extremely popular Tim Tebow in the first round as well as Demaryius Thomas, a wide receiver. Much of Broncos Nation had come to believe McDaniels really did have skills with quarterbacks, so why replace Orton with Tebow? Tebow was extremely successful as a Gator for his option plays, but was often knocked as having a quirky, slow delivery and it was (and still is) questionable as to whether or not he can operate at the speed of the NFL. That said, Tebow is one of the most popular quarterbacks in college history, and if nothing else, the team has made back his salary in jersey sales several times over.
Part of the 2010 draft was meant to help shore up losses on the offensive line. A transition from a full-time zone-blocking system to a part-time zone-blocking, part-time power-blocking system had taken its toll. Ben Hamilton, whose production had dropped after a concussion, was out. Casey Weigmann, who had replaced center Tom Nalen was let go, and they needed to be replaced, so drafting two centers made at least some sense.
But the 2010 season was simply put the worst season that Broncos fans can remember. The Broncos did not just lose games in 2010, they were embarassed more than once. The defense gave up 59 points to Oakland, to a quarterback who keeps getting benched. Kyle Orton put up stupendous numbers with the suddenly resurgent Brandon Lloyd as the new primary receiver, but the red zone became known as the dread zone because even though the Broncos could move down the field, they just couldn't reliably score. The running game had simply nothing. The O-line and the running back corps suffered a plethora of injuries in training camp and McDaniels couldn't find a good combination to get anything working. A late trade for Laurence Maroney was a dismal failure, former Eagle Correll Buckhalter showed a flash here and there but otherwise came out flat, and only in the middle of the season did Moreno start looking healthy enough to produce.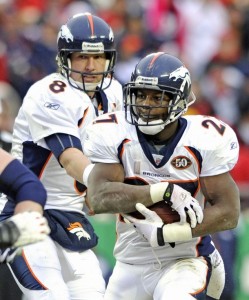 But even as Moreno's production started to rise, Orton's production started to decline. It's not clear to observers why Orton's production had been falling off. In part, his protection hadn't been as good as it was earlier in the season. But that can't be all of it. Possibly the pressure to win had gotten to him, and partly the pressure on the coach had broken down the system that was allowing him to excel. But in any case, where Orton was superb for the first half of the season, he'd reverted to being mediocre at best in the the most recent three or four games.
And the defense? Well, a lack of fresh young talent, and the loss of defensive mind Nolan clearly cost it. While Don "Wink" Martindale was always referred to as a player favorite, on-the-field performance has not shown him to be a successful defensive coach yet. Particularly with the loss of Elvis Dumervil, the team's only effective pass rusher. The defense came out flat and while it showed flashes, it did not show consistent execution at any point during McDaniels' time with the season. Football Outsiders ranks Denver's defense thirty-first in the league. Being better, at least according to those statistics, than Houston, is little consolation to fans.
Change of Leadership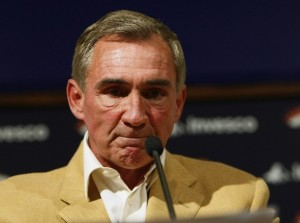 Denver Broncos' fans are not used to losing. In a world where 8-8 is considered unacceptable, having 9 losses and looking at the very real possibility of being a 3-4 win team at the end of the season is something the fans simply have never felt before. The many years of continuity under Reeves and later Shanahan gave the fans some sense of success, and Elway's last four years with the team were simply stellar. And though after Elway retired, Shanahan's success dwindled signifantly, he had only one losing season — the year after Elway retired. But without Elway, Shanahan had only one playoff win, in 2005 with Jake "The Snake" Plummer at the helm.
To fans, anything less than the Superbowl had become unacceptable, and while Shanahan kept the team competetive, a ten year playoff drought was too much for fans, and eventually for Bowlen. When Shanahan was shown the door, his teary good-bye was met with a lot of "good riddance" from a lot of fans. Shanahan had clearly failed as a GM, and even when Ted Sundquist was given the GM role, that didn't help.
Josh McDaniels inherited a team in disarray. As an up and coming boy wonder of the NFL, Pat Bowlen and Broncos fans put a lot of hope that he would return the team to excellence. This hope was always far-fetched. The NFL is designed such that only 30% of the league can actually have success, and no matter how good they are, the rest of the league will fail.
Perhaps McDaniels thought that his methods would return the Broncos to excellence. But what he actually did was to put his stamp on the team. He wanted to come in and make it his. He didn't surround himself with proven NFL knowledge in his coaching staff; the only proven veteran on his roster was Nolan, and that only lasted for a year. But he did make his own brother the quarterback's coach. His talent evaluation clearly has not been successful, though at least some of that blame has to fall on Brian Xanders' shoulders as well. While the 2010 draft is likely to end up with some good solid players, the 2009 draft has already mostly failed and leaves us with just one question mark, Robert Ayers. His attempts to bring in quality players to fill holes on the defense has not only failed, but it has left it worse. The secondary is aging, the defensive line still suspect, and the linebacker corps is the only bright spot there.
Despite all of this, it's not clear that any of this should have led to McDaniels' firing. Yes, he came off as arrogant, cocky, full of himself and completely surprised by his failure. Ultimately, what likely did him in was Spygate II. Even though officially, McDaniels never looked at the film, didn't authorize it, he did keep it secret. And rumor has it that he told other people to keep it secret. And more, darker rumors suggest that he did have full knowledge of what was going on. Still, these are rumors. They are not enough to convict you in a court of law. In the court of public opinion, though, it only takes a rumor that won't go away. And the court of public opinion, ultimately, is what pays the bills for a sports franchise.
In the last two or three games, Broncos fans were voting with their pocketbooks. Game attendance was way down. Calls for McDaniels' head came louder and louder. Bowlen gave a public vote of confidence in McDaniels and then immediately backpedaled on it. In just a week, Bowlen went from full support of his coach to iffy support of his coach to "Don't let the door hit you on the way out." Knowing that the team has researched whether or not he can be fired with cause, it's possible Bowlen may have an expectation of not even having to pay McDaniels for the remaining two years on his contract.
My opinion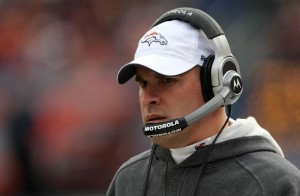 In this writer's personal opinion, McDaniels was in over his head from day one. The instant the Cutler-McDaniels fight became such a public affair it was clear that McDaniels did not know how to run that organization. Various commentators were happy to spread the blame anywhere they could. Cutler was blamed. Cutler's agent was blamed. But many commentators gave McDaniels a pass, because he was going to be the savior of the Broncos. But professionals should always act professional, and nothing about McDaniels handling of that situation seemed professional. Instead, McDaniels, with his "My way or the highway" approach was forced to back it up by sending people packing, and while he may be a football genius, I think the Boy Wonder has a lot to learn about leading.
I also think he's learning those hard lessons right now, and he's going to bounce back from this. He's going to have a chip on his shoulder, but if there's one lesson he can learn from this, it's that he has to surround himself with proven people and allow them to help him lead. In the same way that Shanahan and Belichick both failed in their first head coaching gigs, I suspect McDaniels will come back a lot stronger in his second gig, and hopefully, for his sake, he'll avoid the mistakes he made here.
Whether or not this was the right decision for the Broncos remains to be seen. The cohesion of the team has been destroyed. Older veterans are going to have to decide if they can suffer through a 2-3 year rebuilding process. Team brass is going to have to decide if it's worth paying them through a 2-3 year rebuilding process. The team has a lot of positions of need to fill, plus some unproven talent to determine if it can succeed with them. It seems likely that we'll see another major housecleaning of team personnel in the 2011 offseason, and another cleaning of players. Perhaps 2012 will be similar to 2010 in the number of players remaining on the team.
No matter how you look at it, with or without McDaniels, the next 2 seasons for the Broncos were going to be rocky, difficult seasons no matter what.