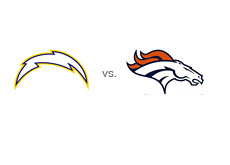 The Denver Broncos are 3-6 and, miraculously, not dead in the division. Dead last, but not dead. Ok, perhaps miraculous is not the correct word. We can blame this on the general ineptitude of the rest of the division. The Chiefs came out looking strong, but they are flawed and those flaws can, it would appear, be exploited. The Raiders came out looking terrible, but they demolished us. Plus, they're on a three game winning streak. And a bye. A bye counts as a fourth win, right? Right?
The Chargers. Well, predictions about how the Chargers future would go when they hired Norv Turner are pretty much right on schedule. A very solid team that gave Marty Schottenheimer the boot replaced him with an offensive genius who simply is out of his element as head coach. And it shows.
The Broncos? Oh, the Broncos. While other websites might be wearing orange and blue colored glasses, I'm sitting over here in the corner. While Jim Saccomano is telling us that the critics aren't really part of the family after all, I'm reserving judgement. And while rumors of the Broncos' death may be premature, I'm not sure how to feel about the team currently sitting in the ICU, getting metaphorical fluids through an IV while we listen to the heart monitor go beep beep beep.
Oh don't get me wrong. I don't think Saccomano was intending to call out the critics directly, he was trying to uplift the supporters. But some choice quotes I've seen from that article without the full context have had the opposite effect, at least on me. As a fan who is feeling somewhat despondent that the Broncos are one of the worst teams in the league, I'm left wondering why I'm the one feeling attacked. The Broncos got crushed by the Raiders in glorious technicolor and somehow it's the fans who are angry and critical who are wrong? I've dealt with a lot of negativity and name-calling in my time with BroncoTalk and this is the first time I've felt truly on the other side of that.
But enough of that. My real point is that I want to tell you what to expect on Monday night.

Only I have no earthly idea.
Look at it this way: out of three wins, two of those wins had the team thoroughly dominating their opponent. The Seattle Seahawks and the Kansis City Chiefs were both trampled and trampled hard.
Out of six losses, four of those losses had the team thoroughly dominated by their opponent. Jacksonville, of all teams, made us look inept in week one. Against Indianapolis, I felt we had a chance throughout most of the game, but the team really beat itself in every phase of the game and let Indy come away with a win. Similarly with the Jets — rarely have I ever felt as good about a loss as I did against New York. But against the Baltimore Ravens, the final score of 17 to 31 looks a lot closer than it really was. The Ravens destroyed us. Oh, and then there was Oakland. I would prefer not to remember that game. I haven't had enough to drink yet to forget it, though.
Also, how on Earth we lose to San Francisco?
At the same time, San Diego has had its share of lopsided games as well. Seattle, who we demolished, pulled out a win. Arizona, on the other hand, was completely inept against them in the same way that Kansas City was against us. And they demolished Jacksonville, who also demolished us. It's like trying to analyze a game of rock, scissors paper. Rock beats scissors and scissors beats paper, so how is rock going to fare against a bolt of lightning and a pack of cigarettes?
San Diego is a team in disarray this season. Big name holdouts, no true replacement for Ladanian Tomlinson, and a lot of locker room unrest. There were people throwing blame at Tomlinson, as though somehow the team's malaise the last couple of seasons have all been his fault, that his falling stardom meant other people couldn't play the game through his contrail. And when players talk like that, you can just tell how they're going to play the game.
Which is to say, inconsistently.
Rivers and Orton are currently the top two passers in the league right now. I think everybody expects to see Rivers up in the top 5 on a regular basis. Nobody expects to see Orton up there. Maybe not even Orton. But both teams have one thing in common: a running game in total shambles, and that sure leads to a lot more opportunities for the quarterback.
The bright spot for the Broncos is that the last inconsistent game (i.e, a giant win when there is no way anyone could have predicted that) came after a bye and after several important tweaks to the game:
The offensive line is finally the offensive line we expected. Ryan Clady, Zane Beadles, J.D. Walton, Chris Kuper and Ryan Harris playing at the positions they're best and, and finally getting past some serious injuries that have held many of them back since training camp.
The improvement in the offensive line meant Moreno looked like a real running back on Sunday.
Moving Mario Haggan outside and promoting Joe Mays to the starters. Looks like a good move after one game.
The team scripted its first 18 plays, a philosophy Shanahan espoused. It creates a kind of consistency and certainly improved execution.
Execution.
That's a great word here. The Broncos, more or less, can blame every single loss, save the Raiders, on execution. Or rather, the lack of it. In the chess match that is football, there are a lot of reasons why a particular play may or may not work, and scoring is about stringing together a set of plays that work. A lot of the time it means establishing things in the first part of the game and using what you've established later in the game to confuse the defense. Sometimes it means intentionally letting drives stall using plays you expect to fail so you can convince the opposing defense they know what you're going to do, and then surprise them. Football, on a strategic level, is about confusing your opponent on one hand, and correctly predicting your opponent on the other hand. Most of the time, the team that is better about predicting the opponent and confusing the opponent will win.
Most of the Broncos' games have not been won or lost because of strategy. Most of the Broncos' games have been won or lost because of a lack of execution. Often this was lack of discipline — taking ugly penalties due to lack of focus and concentration — and often this was players simply not having the timing down perfectly.
What does this tell us about Monday night?
Not a bloody thing.
Why? Because on Sunday, the Broncos executed perfectly. But why? Was it the scripting? Scripting allows a team to rehearse in such a way that the thinking should be gone. That first set of plays? You do what you've programmed yourself to do. Things should just work. Was that why the Broncos executed well?
Was it because the team looked back on the first eight games, recognized that their real problem was a lack of execution, worked on it and actually corrected the problem?
Was it because the team was angry after back to back losses to the Bay Area teams, and was able to channel that anger into emotion. They physically dominated the Chiefs completely. But as much as anything, that domination can come when the emotion of the game is unbalanced. Sometimes there's an early shocking blitzkrief and the opposing team never recovers and fails to play the way the team normally plays.
Was it because John Elway gave them a talking to, and all of the players looked deep within themselves and found what they needed to stay focused?
Was it because many injured players are back, and many players who'd been playing injured are healthier now?
Was it just because a week off gave them a little time to let go and get back to basics?
The answer is probably some combination of all of these things, honestly. What we can't tell is how well this will carry forward, because any statistician will tell you that small sample sizes make your analyses worthless. And we have either a sample size of 9, which tells us the Broncos are doomed, or a sample size of 3, which tells us that the Broncos are probably doomed, or a sample size of 1 which suggests that the Broncos are going to win 73-27. Roughly.
I personally find it hard to believe that one bye week and one game equate to the team fixing the problems that are plaguing it since the middle of the 2009 season. It's not impossible mind you, but I'm a show-me kind of guy on this one. And no, my hesitation here does not mean that I won't be sitting in my living room on Monday night, wearing orange, rooting for my team to defeat a division rival. But do I feel confident going into the game? No. Do I want them to win? Yes. Do I have any bloody clue what's going to happen?
Well, kind of. I predict it will be a blowout. I just can't predict which team will blow the other out. But to me, the most surprising result will be if the game is still close in the fourth quarter. So let's call the final score 39-17, but I won't pick which team scores which number.
One thing is for sure, though: Whichever team loses is probably pretty much dead in the division. Though San Diego might still have a shot if they lose.