Posted Tue Oct 5th by Monty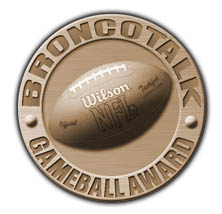 When the Broncos win, the BT staff gives out Game Balls. And win they did in Week 4 — Broncos 26, Titans 20. Alright gentlemen, who ya got?!

Kyle Orton
In the midst of all of our misery, Orton stays calm. Heads up play despite running for his life throughout the game. He took a team that is anemic in the backfield and mostly absent on special teams on his shoulders and threw the ball 50 times for a win. – Ian Henson

D.J. Williams
This former running back was all over the field yesterday. The defense kept the Broncos in the game yesterday and D.J. did more than his fair share. If he keeps this up I'll start the D.J. for the Pro Bowl push soon enough. – Mr. East

Eddie Royal
Obviously I'm a fan but I've been saying since training camp that with Orton being the next cassel in McD's system, Royal would be the next Wes Welker. Today he looked it with the only TD for a Bronco wideout and a game over 100 yards. – E. Halsey Miles

Kevin Vickerson
The former Titan got his first start at defensive end as a Bronco against his former team and made the most of his opportunity. Vickerson finished with six tackles (three solo) and sealed the left edge of Denver's defensive line, not permitting running back Chris Johnson to get going. – Kyle

Matt Prater
I hate picking kickers but the guy deserves it. Matt Prater was perfect today. If he doesn't go 3 for 3 with the 4th field goal to top it off we don't win this game. He had a long of 36 yards and if you look at it comparatively against Rob Bironas who missed a 35 yarder in the first quarter, being flawless goes a long way towards a win. – Josh Temple

Brandon Lloyd
Peyton Hillis, FB/RB. Err wait, I mean Ryan Torain. Oops, I forgot they're gone – along with the running game. I don't like that the offense has become one dimensional, as the season goes on that will hurt. At any rate, Brandon Lloyd is a beast, he roasted the Titans secondary. Lloyd is just two yards behind Reggie Wayne in receiving yards (with 454 yards), meanwhile Brandon Marshall is ranked 14th, two behind Eddie Royal! The Broncos passing attack, particularly Lloyd get a game ball. – Jon

Robert Ayers
Ayers will be compared to Elvis Dumervil all season, but perhaps that isn't fair. He's not a sack machine, and he's not even tallying a ton of quarterback pressures (he registered no sack and one pressure Sunday), but he's becoming a disciplined weapon in the Broncos' defense nonetheless. Twice he shot through the Titans' offensive line to make a big stop on Johnson behind the line of scrimmage, finishing with five tackles (four solo). – Kyle
Who'd we miss? Your Game Balls in the comments.