Posted Mon Sep 20th by Monty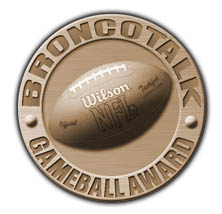 When the Broncos win, we give out Game Balls. And win they did in Week 2 — Broncos 31, Seahawks 14. Alright gentlemen, who ya got?!

Demaryius Thomas
The rook stepped up big in his first game ever, finishing with eight catches for 97 yards and a touchdown. Kyle Orton definitely had some trust in him because he sought him out on a couple of third downs. Its great to have a guy who is able to convert a third and 14. If Thomas can continue to play like this, then maybe the next 4 games won't be so bad. – Mr. East
J.D. Walton
Thought the O Line gave great pass protection to Kyle all day long. The line also got some good push on short yardage situations when it was needed, ex. Buck's TD, (Moreno's ups didn't hurt either). Ryan Clady may be the star, but the rookie center is now the anchor of this young unit. – J. Kenneth K.

Kyle Orton
The man out played himself 25 of 35 for 307 yds. That's 71.4% for a quarterback rating of 117.2. No one else is going to talk about that or applaud the man outside of these pages, so I'll do the small amount we can to get him publicity. Denver's entire season rests upon this man's shoulders and he seems completely find; even nonchalant about that. I'm perfectly fine with that as long as he continues to do as he does. Squeaking quietly towards becoming one of the best passing teams in the NFL (currently the Broncos are 5th in the NFL).
So Orton gets my game ball and much deserved. With such a talented receiving corps, who are only going to get better. The future's very bright for this young Broncos offense. – Ian Henson

Eddie Royal
Give the man a taco! Rather, 5 tacos for his five catches that went for 65 yards and his first receiving score since his rookie season in 2008. Every time Eddie touched the ball you felt something big was gonna happen, kudos to McDaniels for getting Eddie more involved in the offense. – Jon

Matt Prater
Prater had the opening kickoff and five others during Sunday's beatdown — in those six kicks, Seattle only returned a total of 13 yards. Five touchbacks is just pure domination. Prater is the best distance kicker in the game. – Kyle
Who'd we miss? Your Game Balls in the comments.