Posted Thu Aug 12th by Monty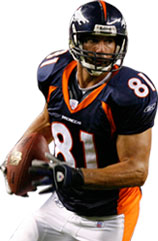 In a phenomenal piece in the New York Times' Fifth Down Blog, former Denver Broncos tight end Nate Jackson (who was on the team from 2003-2008) breaks down what it's like to participate in training camp at football's highest level.
As one might expect, it's not all sunshine and rainbows. Jackson breaks down the daily grind, the verbal abuse from the coaches, and how players spend their precious downtime ("however they can: napping, video games, reading, crying.").
Okay, none of it is sunshine and rainbows.
The verbal haranguing (from the coaches) isn't exclusive to the field. In meetings every day and night, it continues. The decibel level decreases, but it's no less biting. Every play of every practice is watched on film by the whole team that same day. Morning practice is watched in the afternoon before the afternoon practice, and the afternoon practice is watched at night before going home. Practices are watched on huge screens with high quality projectors. When a player makes a mistake, it is pointed out and discussed.

Nothing slips through the cracks. Depending on the severity of the mistake, and the frequency of mistakes being made by the player, the reaction from the coaches will vary, but the feeling for the player is always horrible. Being called out in meetings and having everyone in the room watching you fail in slow motion — often with a laser pointer on your two-dimensional body — is demoralizing, and only intensifies the pain. This scrutiny is well intentioned, but often falls flat from overkill, the message trampled by the messenger.
If there's one prevailing theme in Jackson's piece — which is a terrific read from top to bottom, do yourself a favor and soak it all in — it's that the physical toll of training camp, while significant, is nothing compared to the mental pounding the blue collar NFL player will endure this month. It's the middle of the afternoon on Day 12 of camp as we write this; somewhere in Dove Valley, a Bronco is crying.
What an N.F.L Training Camp is Really Like [The Fifth Down Blog]