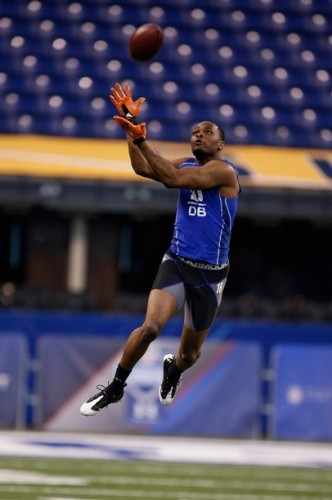 Destroyed by Kansas City 44-24 in the season finale I found it easy, well easier, to put football on the back of my mind for a bit. Even through the Tebow-mania subsided my subconscious was still not very football-forward, I was still putting my school work and work-work ahead of my Bronco Talk duties, strange right? Even when I finalized my plans for training camp, I still struggled to manifest my thoughts to paper digital. Then there was the Hall of Fame Game.
That's right, live football. I don't care if I'm watching Alex Mortenson throwing picks to Reggie Corner (How do I remember that? And yes, best CB name ever), I'm watching live, real FOOTBALL!  It's not just me either.
According to a tweet from the NFL's Greg Aiello, the rating on NBC was a 7.6 overnight with a 13 share. That made the game the best Hall of Fame game for the league in six years, and it represented an increase of 31 percent from 2009 and 41 percent from 2008.
With that in mind, I'm compiling a list of things to watch during the preseason in a series of articles. This time around, we take a look at what's behind the corner. 
The Young Secondary
Some of you may be thinking, "Excuse me Mr. East, the youngest guy in the secondary is 31. Use Google, thanks." However, one of the great parts of the preseason is that we get to watch our young draftees fill in for our future hall of famers. Whether it's at safety or corner, the Broncos have a lot of young guys ready to step up.
The Young Safeties
Darcel McBath
I am very excited for this to watch McBath play, he looks like he could be a pro bowler one day. Whenever he gets a chance to step up and play, he's there to produce, which is hard when backing up the Brian Dawkins.


What to Watch: Dawkins won't see a whole lot of playing time during preseason games, if any at all. McBath should see the majority of the plays during the first two or three preseason games.
David Bruton
Bruton is one of two smart, hard working safeties from Notre Dame on this team. However, he's the only one that has a bona-fide chance of starting this year. If Bruton works hard in camp and plays well enough in the preseason he can upset Rendaldo Hill. Last year Bruton scored a preseason pick and was a special teams ace, so it's time to see what a year under his belt has given him. 


What to Watch: Similar to McBath, Bruton will see a good amount plays in the first two games. It will be interesting to see if he plays more fluidly now that he comprehends the system a little more.
Kyle McCarthy
Mister lunch pail. McCarthy is a victim of his own athletic scope. In high school he did just about everything, he accumulated over 1,000 yards rushing and 700 yards passing leading his team to a state championship. During the championship game, "He threw for one TD, scored on a run and an interception return and made three touchdown-saving tackles in a 28-6 win over Versailles." In college McCarthy was a solid, hard hitting, and smart player that Notre Dame could rely on consistently. This is a textbook McDaniels guy.


What to Watch:Â  McCarthy should get a lot of play in the third and fourth games, and he will be exciting to watch. The Broncos aren't necessarily thin at safety so he will have hard time making the team, but have no doubts he will work hard and have fun while doing it.
The Even Younger Corners
Perrish Cox
The man from Oklahoma State has been turning some heads at camp, enough to let him fill in for the Champ Bailey. I can't stop hearing about this kids ball-hawking skills and instincts, not even to mention his return skills. Any time you get air like this, you can certainly get any one's attention.

What to Watch: Expect to see Cox everywhere during preseason. He will most likely receive a good amount of  punt and kick returns. Champ Bailey and Andre Goodman won't be playing very much or at all during preseason so this is where it will get interesting. During Champs absence, Cox has received some of his snaps and excelled. I think McDaniels will have enough trust to let him loose during game time.
Alphonso Smith
After a very quiet rookie year, this sophomore has been working hard to improve. His performance and work ethic at the OTA's was praised by his teammates and coaches. However, word has it that his camp performance has been less than spectacular. That being said, I still like Smith, he's a very charismatic and smart. I've never dismissed him from the depth chart, and he has the opportunity to prove me right. 

What to Watch: Smith will be vying hard with the others for playing time. In the San Fransisco preseason game last year I saw Smith make an amazing island type save, and I thought it was a sign of great things to come. Jack Williams did teach me a lesson though.
Tony Carter
It's extremely hard to make the team as an undrafted free agent, but Tony Carter cut right through the ranks. Carter was one of the few bright spots of the narrow loss to Oakland. This a guy you just cannot count out, the man works hard and plays harder.

What to Watch: Much like Alphonso Smith, Tony Carter will be inserted into many nickel packages during the preseason. Carter will play hard and make Coach McDaniels life a lot more difficult when making cuts.
Syd'Quan Thompson
Thompson had a great career as a Bear, so it will be interesting to see him as develop as a Bronco. He may be smaller than most and his forty time may not be as flashy as his peer's, but this kid hits like a truck and his game speed shines through his return skills.

What to Watch: Thompson will see a lot of late game snaps. He may even get a chance to return the ball later on in the preseason. It will be interesting to see how he tries to prove his worth to the active roster.
Nate Jones
This veteran may not be as youthful, but he's sure determined to send all of the above guys to the bench.

What to Watch: Nate Jones is extremely versatile, he's seen time at right and nickel corner, as well as safety (can he play OLB?).  He will most likely play everywhere and start at nickel corner for the first few games.
With that many players all fighting for just a few spots it's safe to say that the corner battle will be one of the most interesting ones to watch on Sunday.
Side Note: Can I get some altitude advice? I'm a pretty dedicated runner, so I'm wondering how bad is the Mile High Air going to kick my ass?