Posted Tue Aug 3rd by Monty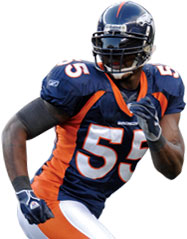 Denver Broncos linebacker D.J. Williams missed his second practice in three days Tuesday, leaving many wondering about the status of the 2009 Pro Bowl alternate. After practice, Head Coach Josh McDaniels said that his absence isn't necessarily a sign that something is wrong.
"There are going to be a lot of guys in and out of training camp," McDaniels said. "It's not uncommon…. There are some guys we want to make sure we monitor and are smart with — we take care of. D.J. is one of them. That doesn't mean that guys don't have things we need to nourish back to health either, so you know, there's nothing wrong with D.J. We'll have him out here soon."
Williams missed Sunday's p.m. practice but participated fully in Monday's session. He seemed to bounce back after what looked like a tough opening practice Sunday morning, but his absence Tuesday indicates there may be something setting back the former defensive captain.
Also missing from Tuesday practice were DL Chris Baker, S Josh Barrett, and WR Kenny McKinley. NT Jamal Williams, LB Darrell Reid, T Ryan Clady, and RB's Knowshon Moreno and Correll Buckhalter continued to miss time due to injury or conditioning.
We'll keep you posted on any developments on Williams, Baker, Barrett, and McKinley.  Full practice report in a bit.