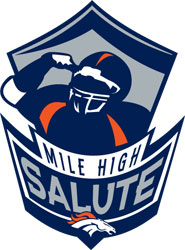 The Mile High Salute® was popularized by Ring-of-Famer Terrell Davis during the Broncos glory days, and at the time was one of the most prevalent touchdown celebrations in the NFL. Davis did it in honor of his father who served in the military. The tradition carried on to the present day, with fans and players being saluted to by the likes of Mike Anderson, and more recently Peyton Hillis, among others.
Mike Anderson spent four years in the United States Marine Corps. While in the military, he played for the 11th Marines football team, where he was discovered by an assistant coach from San Jacinto of Mt. Junior College – where Anderson attended before joining the Broncos in 2000. Coming from a Military background, Anderson frequently saluted the fans and his teammates during his Rookie of the Year season, and throughout his Bronco career. In 2005, the Broncos released Anderson, since then only one Bronco running back has rushed for 1,000 yards. 
Mike Bell was undrafted in 2006, but was signed by the Broncos as an free agent. Continuing where Anderson left off, Bell picked up on the Mile High Salute. After a slow sophomore season the Broncos cut Bell in 2008. He then signed with the Saints, where he just won a Super Bowl.
Last season, seeing the Mile High Salute was scarce, and since Peyton Hillis was released during the off-season, it will probably be rare to see it this upcoming season. Unless of course another Bronco decides to carry on the tradition.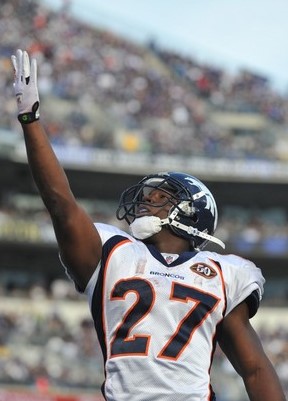 Knowshon Moreno and Terrell Davis share the same alma mater, so I assume Knowshon knows a bit about Davis, and the notorious Mile High Salute. Despite that, Moreno didn't once salute the fans after scoring nine times as a rookie, he did however have a few post-touchdown gestures, including but limited actions such as his Wind Kiss, "We're cool", Hand Clap, and whatever this is.
I do like that he is original, but I'm also a traditional. Every touchdown doesn't call for a Mile High Salute, but throwing it out the window shouldn't be an option either.
Undrafted free agent defensive end Ben Garland (who played for the Air Force Academy), could possibly pick up the torch – if he makes the team. I for one think it is time somebody starts saluting again, in honor of the military, and in honor of the Broncos historic past.