Posted Fri May 14th by Monty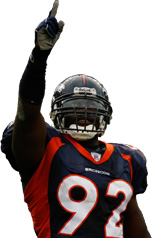 Or, at least, he will be this weekend.
Restricted free agent linebacker Elvis Dumervil is expected to return to Denver Sunday, the Denver Post reports, a day before the team begins its next round of OTA's (organized team activities).
Whether Dumervil participates in on-field work remains to be seen, but he is expected to be at Dove Valley when practices begin Monday.
Dumervil, who has not participated in any of the team's voluntary workouts this offseason, has been offered a $3.168 million paycheck from the Denver Broncos if he signs his tender by June 15. The league's sack leader in 2010, Dumervil has been seeking (and, frankly, earned) a long-term deal from the Broncos that would categorize him with some of the league's most elite defenders financially. The Post's Lindsay Jones speculates he could be aiming for something on par with Baltimore's Terrell Suggs, who netted $38 million guaranteed a year ago.
Dumervil's size and struggles in run support, however, may be preventing the Broncos from committing to him so. He's become a bit of a one-trick pony in the NFL; still, he's supremely talented at that trick (pressuring the quarterback).
Either way, whether it's to sign short-term or try to hash a deal out long-term, Dumervil's returning to Dove Valley is a delight.
Broncos' Dumervil to return to Denver [Denver Post]