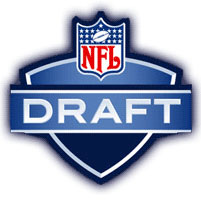 Three days… it's getting quite grueling now. All I can really think about is the draft, every bad hair piece reminds me of Mel Kiper. I've already gone through the first three rounds so now it's time to move on to the fourth and fifth.
Round 5
In the spirit of tradition, I am going to assume that these players below have been selected by Denver in the first three rounds:
Pick 11: Rolando McClain, ILB, Alabama
Pick 43: Demaryius Thomas, WR, Georgia Tech
Pick 45: Tim Tebow, QB, Florida
Pick 80: Toby Gerhart, RB, Stanford
If the draft goes like this then Denver has address some key position skills and now need to turn their attention over to their ailing offensive line. The great thing about offensive linemen is that you can find starters in the late rounds (Jeff Saturday was undrafted and Matt Birk was a 6th round pick). So who does Josh McDaniels and Brian Xanders target come Sunday? Who will Denver acquire with their fourth and fifth round picks?
Pick 114: Matt Tennant, C, Boston College
It wouldn't surprise me at all if Matt Tennant falls this far due to his smaller frame.
Pros
Matt Tennant acquired a lot of experience in his five year career at Boston College. He played very well and was healthy enough to start 41 games in a row. Tennant has great technique and high work ethic. It's hard to find a play where Matt Tennant didn't give it his all.
Cons
Tennant has a small and lanky frame. Teams in the NFL, and especially the Broncos, will require him to gain around 10-15 more pounds. Without the extra muscle Tennant could really get bossed around by 3-4 nose tackles.
Other Possibilites
Eric Olsen, G/C, Notre Dame

Dennis Pitta, TE, BYU
Roster Impilications
None really, seeing how there's no centers.
Pick 137: Mike Johnson, G, Alabama
Unless a player like John Jerry is available Mike Johnson should be the pick.
Pros
Johnson is a massive player who did very well in Alabama's system. His size should allow for him to be a more than adequate power blocker (6'5, 305). Johnson was the most experienced blocker for the national championship winning Alabama Tide. Keep in mind that Johnson also blocked for Heisman Trophy winner Mark Ingram. Johnson is also a smart player, he had a perfect 4.0 GPA in high school. Josh McDaniels values players of this caliber and his friendship with Nick Saban is also another factor to consider.
Cons
Johnson may be the most experienced but he's not considered to be the most talented. Scouts question his pass blocking skills at the NFL level. Last season Johnson played next to first round pick Andre Smith which some analysts think may have made him look better than he is. Johnson was very much a developmental player at Alabama which turns off other teams from drafting him early.
Other Possibilities
Mitch Petrus, G, Arkansas

Brandon Carter, Texas Tech
Roster Implications
Any picks at offensive tackle shouldn't affect this roster too much.
Rounds four and five are done and round six will be up tomorrow. On Thursday I will have a final (probably revised) mock of who the Broncos are taking, and a final first round mock. Follow Bronco Talk (@BroncoTalk) and myself (@Mr_East_BT) on Twitter for draft updates.
That's two more rounds for you. What do you think Bronco fans? Who goes in rounds 4 and 5?