Posted Mon Mar 15th by Monty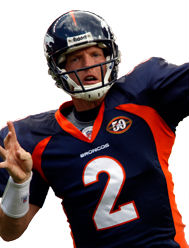 The writing was on the wall the moment the Broncos traded for Brady Quinn Sunday. Quarterback Chris Simms was released on Monday, the Denver Post reports.
Simms was called to duty once in his one-season career as a Bronco, starting for three series but struggling against the San Diego Chargers before being benched for the injured Kyle Orton.
Finding a backup quarterback — one that could even compete with Orton for the starting job — was one of this offseason's priorities, and the Broncos fulfilled that with the trade for Quinn. That left no space on the roster for Simms.
Broncos cut quarterback Chris Simms [Denver Post]