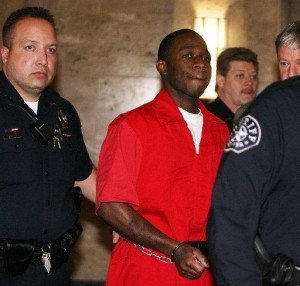 Today brings much needed closure to the family of Darrent Williams and the Denver Broncos community.  A jury has convicted known gang member Willie D. Clark on two counts of First Degree Murder.  One for the shots that killed Williams and the other for murder with "extreme indifference".  Clark was being tried for a total of 21 charges and was found guilty on all 21.  Included in those charges were 16 for attempted murder, one for each of the survivors inside of the hummer limousine that was fired upon.  The defense requested a confirmation by each juror, they all replied with the same guilty vote.
There were no comments provided by the Clark family.  Defense attorney Darren Cantor also declined to comment on the verdict.  He was overheard in the courtroom stating to the sobbing Clark family members: "Try to breathe, OK? That's what appeals are for."  The prosecution's key witness, Daniel "Poneytail" Harris has been denounced by the defense multiple times as pegging Clark as the scapegoat and even being accused as the actual gunman.  Sentencing has been set for April 30th.  Clark still must stand trial for the murder of a key witness, Kalonniann Clark. Pat Bowlen released the following statement shortly after verdict was read:
"Nothing can ever bring Darrent Williams back or ease the suffering for Rosalind and her grandchildren.

But after three long years, it is very gratifying to see closure brought to this case. This process has been extremely difficult for the Williams family, his friends and teammates, this community, and the entire Denver Broncos organization.

I would like to praise the long and hard work of the Denver Police Department and the Denver District Attorney's Office. I also want to thank the Denver community for the overwhelming support that both the Williams family and the Broncos have received during this unimaginable tragedy.

Darrent's legacy will live on for all of us in the Broncos organization, and the outstanding work done each day at the Darrent Williams Memorial Teen Center is a tribute to his impact on this community. Our hearts continue to go out to the entire Williams family."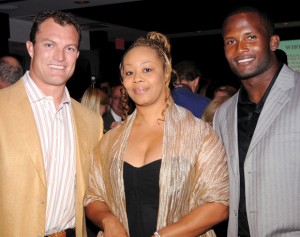 It has been reported that Darrent's mother Rosalind Williams sat quietly in the courtroom throughout the day and the verdict reading.  She was quoted as follows:
"It has been three years, three months and 11 days, but today ultimately shows that no one wins.  My family didn't win.  The Clark family didn't win, I lost my son, my only son, and his children lost their father.  This doesn't bring him back.  But I just want something has to happen in society for us to stop gang violence. It just has to stop."

"This is a start."
All of us here at Broncotalk hope that today's events will bring closure to the Williams family as some justice has been found.  As Rosalind stated, nothing is going to make it right, nothing will bring Darrent back.  We can only hope that this puts everyone's minds at rest and we can move on.  A little piece of the Bronco Community (the Williams family included) healed today and that's what's important.
A timeline of events following Darrent William's tragic death: