Posted Mon Mar 8th by Monty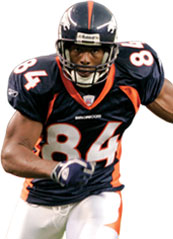 Even by Chokeland standards, this blunder was particularly suffocating.
After two seasons completely devoid of any type of production (but not without plenty of dollar signs), the Oakland Raiders waived wide receiver Javon Walker Monday, ESPN's Adam Schefter reports.
Walker signed a six-year, $55 million deal in 2008 with $27 million to be paid in the contract's first three years. According to Sports Illustrated's Peter King, Walker was paid $21 million of that over his 24 months in Oakland. He tallied 15 catches and one touchdown in that span.
The Raiders also waived defensive end Greg Ellis Monday.
The Javon Walker signing might go down as the worst free agent move in NFL history. Only the Raiders…
Walker Deal Worst Ever? [BroncoTalk]