Posted Mon Mar 8th by Monty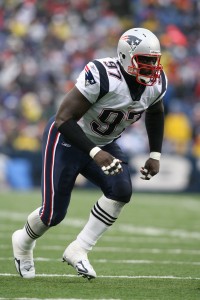 One thing is certain: the Denver Broncos are seriously focusing on the defensive line in the early stages of free agency.
Defensive end Jarvis Green, most recently of the New England Patriots, will start his free agency tour on Monday with a visit to the Denver Broncos, the Boston Globe reports. Green is scheduled to arrive in Denver today and visit with Broncos brass through tomorrow.
Green (6-3, 285) is looking to take advantage of his "unique position" as the only pass-rushing defensive linemen in the 3-4 scheme in this year's free agent crop, his agent told the Boston Herald last week:
Green and his agent, Albert Elias, sat back during the first few days of free agency, making phone calls and focusing on how teams would use him instead of taking visits. …
"We are in a unique, unique position to be a free agent," (Green's agent Albert) Elias said yesterday. "We believe he was the only person in free agency in his role, a down lineman who can rush and have sacks in the 3-4 scheme. Numbers prove it. We weren't worried Friday, because we knew there was nobody (like him). We've studied the market."
Green had 14 sacks in 2006-2007 but only three in the past two years. The 31-year-old started 12 games for the Patriots in 2009.
Depth. Rotation. Talent on multiple levels along the defensive line. None of these guys are world-beaters by themselves, but the Broncos are looking to build a deeper core of talent defensively. If the Broncos can add Green and Jamal Williams to the already heavy addition of Justin Bannan, fans can look forward to a seriously improved defensive front in 2010.
Green to visit Denver [Boston Globe]
Jarvis Green takes his time looking for right fit [Boston Herald]