Posted Mon Mar 8th by Monty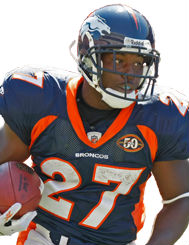 Despite a knee injury that has required multiple surgeries in the past twelve months, the Denver Broncos are giving running back J.J. Arrington another chance in 2010.
Some in league circles believe it's because the Broncos know they can't rely on Knowshon Moreno and Correll Buckhalter. As the Denver Post notes, league personnel executives have said Moreno wore down as the year went on —
With Knowshon Moreno, in the eyes of many personnel excutives around the league, having worn down as the season wore on in 2009, Arrington's signing means he could take some of that situational work in the backfield away from Moreno if the veteran's right knee will hold up.
The point is fair. Moreno struggled in the early goings (as most rookies do) before finding his rhythm in November with a string of four decent games. However, his last four games of the season were as bleak as any — he averaged a lowly 2.2, 2.0, 2.6, and 3.6 ypc in the season's final games.
Part of that rushing output was certainly caused by injuries to the offensive line; however, Correll Buckhalter fared much better in those same weeks (playing in three of the four) with averages of 4.8, 8.0, and 3.0 yards per carry. And Moreno continued to struggle in pass protection as the year went on. Plenty of the blame can fall on his young shoulders.
In fact, one of Moreno's lowest rushing totals of the season — a loss against Oakland that saw him rush 19 times for 42 yards and a 2.2 average — was coupled with a 5.4 ypc day by Lamont Jordan. Jordan was released last month.
That also happened to be the one-out-of-four-weeks in December that Buckhalter missed due to injury. One could say Knowshon Moreno performed his worst when the Broncos needed him most.
Will Moreno turn the corner in his sophomore season and give the Broncos the type of value they'd hoped they were getting when they selected him with the 12th overall pick in the 2009 draft? Can Buckhalter stay healthy enough to spare The Kid through 16 (or more) weeks?
The Broncos couldn't be certain. And that's why Arrington has another shot in Denver.
The only question remaining for the Broncos now is if three unreliable backs are better than two.
Arrington still a risk for Broncos [All Things Broncos]