Posted Sun Feb 7th by Monty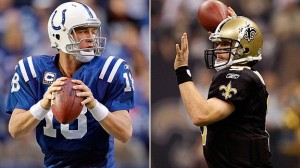 The 2009 NFL season has all come down to this: the AFC Champion Indianapolis Colt facing the NFC Champion New Orleans Saints for the Lombardi Trophy. Super Bowl XLIV.
This game has been broken down to death already, so we'll be brief in our assessment and pick today. We love both quarterbacks and passing offenses (who doesn't?). We like both defenses. But in both categories, we'll give Indy a slight edge. New Orleans has the edge in the running game, but we don't see them taking the ball out of Drew Brees' hands enough to exploit this.
In the end, none of these edges will matter all that much. These are two complete teams. If they played the game ten times, they each might win five apiece.
So we're taking the undefinable spirit and moxie each team is taking to the game as the deciding factor. The Colts might be the slightly better team, but the Saints are prepped to play a better game today.
The New Orleans Saints will beat the Indianapolis Colts 37-31.  Your picks in the comments.  Enjoy the season's last hurrah, everybody — it should be a good one!