Posted Tue Jan 5th by Monty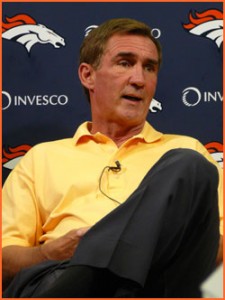 After months of discussion, former Denver Broncos head coach Mike Shanahan has agreed in principle to become the next head coach of the Washington Redskins, Mike Klis of the Denver Post reports (nice job Klis).  All that remains is for Shanahan to sign on the dotted line, with an official announcement to follow Wednesday.
UPDATE: ESPN's Adam Schefter reports the contract has been signed. The 'Skins will announce the move during a 2 p.m. ET press conference Wednesday.
The hiring will save Pat Bowlen approximately $7 million over the next two years, according to the report, but Bowlen will still have to shell out that same amount from Shanahan's Broncos contract.  Several news outlets throughout the day have reported the sides discussing a five-year deal worth over $50 million, netting Coach over $13 million per year to be "a player or two away" from the Super Bowl.
Now we wait for the ripple effects of this move to hit Denver.  Which former Shanahan coaches will follow him to Washington?  Which players, if any, will Shanahan pursue in the trade market or free agency (ahem Marshall Scheffler Hillis ahem)?
Snarky comments aside, we're happy for Shanahan and wish him success in our nation's capital.
Mike Shanahan reaches deal to coach Redskins [Denver Post]