Posted Tue Jan 5th by Monty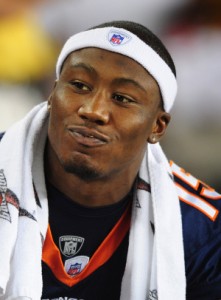 Turbulence continues to surround Brandon Marshall, and, just as in times past, Marshall took to the airwaves to tell his side of the story and set the record straight.
"Everything I've done has been nothing but 100% commitment to the Denver Broncos and to my teammates," Marshall said Tuesday, appearing on FM radio station 104.3 The Fan in Denver.  "To say I've given up on my teammates is just a disgusting feeling, and it hurts me."
Marshall went on to defend some of his actions during the 30-minute interview and, more importantly, apologize for others.  Marshall admitted and regretted being late for treatment last week and voiced his regret in commenting on head coach Josh McDaniels' lack of playing experience in the NFL.  Then he wasn't shy with praise of owner Pat Bowlen and even McDaniels.
"I have nothing but great things to say about Coach McDaniels, this organization… Mr. B is one of the best owners in all of sports.  I take my hat off to Josh McDaniels because, if it wasn't for him, the growth in me this year wouldn't be there."
Marshall also shed some light on the 2008 hip injury he played through, admitting to "butting heads" with then-coach Mike Shanahan as he played through the pain.
However, when push came to shove and the topic of Marshall's future in Denver came up, Marshall tip-toed around the subject, deferring to his agent and Broncos management.  He did, however, give a few quotes onto which those hoping the Pro Bowler stays in Denver can cling.
"I love this organization," Marshall said.  "I'm going to be a Bronco until they tell me differently."
The surprise interview was quite transparently a PR cleanup act, heavily coached by his agent, and we have to say they did a bang-up job.  The interviewers were terrible, completely fixed in their opinion and trying to goad Marshall into controversial soundbite after soundbite, but Marshall didn't bite, and continued to heap praise on his superiors.  It sounded sincere for the most part, and so Marshall and his reps did a pretty good job of tidying up this latest picture of Marshall as a malcontent.
Unfortunately, though, this wasn't about making nice with the Broncos — it was about image revival as Marshall hits free agency.  Even after all the right things are said, actions speak louder than words. Marshall cleaned out his locker Monday and did enough over the last two weeks to suggest his commitment wasn't quite "100%" to the Broncos, as "disgusted" as that may make him feel. Marshall is as good as gone.