Posted Mon Jan 4th by Monty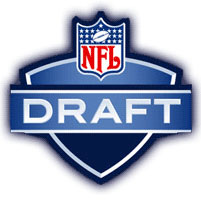 UPDATE: The Broncos will draft 11th. Full Broncos draft picks order.
In order to determine where they will select in the 2010 NFL Draft, the Denver Broncos will flip a coin.
One hopes the actual selection process will be a bit more involved.
The Broncos will draft 10th or 11th in the first round of the 2010 NFL Draft, depending on the results of a coin toss between them and the Jacksonville Jaguars. The selection originally belonged to the Chicago Bears, who sent it to Denver in the Jay Cutler trade.
The Broncos' 8-8 record sees them drafting 14th this April, but they do not own that pick in the first round. Their first round pick was traded last year to the Seattle Seahawks in order to select Alphonso Smith in the second round. Smith underwhelmed in his rookie year; if the Broncos aren't wishing they had two first round draft picks this year, most fans are.
The 2010 first round draft order, as it known now, after the jump.
1. St. Louis (1-15)
2. Detroit (2-14)
3. Tampa Bay (3-13)
4. Washington (4-12)
5. Kansas City (4-12)
6. Seattle (5-11)
7. Cleveland (5-11)
8. Oakland (5-11)
9. Buffalo (6-10)
10t. Denver (Traded from Chicago) (7-9)
10t. Jacksonville (7-9)
12. Miami (7-9)
13. San Francisco (8-8)
14. Seattle (Traded from Denver) (8-8)
15. New York Giants (8-8)
16t. Tennessee (8-8)
16t. San Francisco (Traded from Carolina) (8-8)
18. Pittsburgh (9-7)
19t. Atlanta (9-7)
19t. Houston (9-7)

Picks 21-24 will be the wild card round losers. Picks 25-28 will be the divisional round losers. Picks 29-30 will be the conference championship losers. Pick 31 will be the Super Bowl loser. Pick 32 will be the Super Bowl winner
2010 NFL Draft Order [ProFootballTalk]