Posted Wed Dec 30th by Monty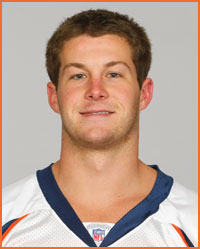 The Denver Broncos filled the vacant spot on their 53-man roster Wednesday by bringing in a familiar face. Punter Britton Colquitt, who competed for punting duties with Brett Kern during the team's training camp and preseason, was signed to the Broncos' active roster off the Miami Dolphins' practice squad.
Speaking of familiar faces, Colquitt will be seeing one of his own on the opposing sidelines this Sunday: his older brother Dustin is the punter for the Kansas City Chiefs.
The Broncos' current punter, Mitch Berger, has not been involved in a roster move yet, suggesting that he may remain on the 53-man roster. Lindsay Jones of The Denver Post speculates that Berger could be sticking around for holding duties for Matt Prater, although the Colquitt move has not been announced in an official capacity so it is still possible Berger is sent to the, erm, grinder.
After Berger's awful showing Sunday — one that did more to hurt the Broncos in a three-point loss than help them — that sounds pretty good either way.