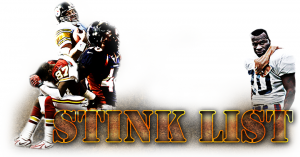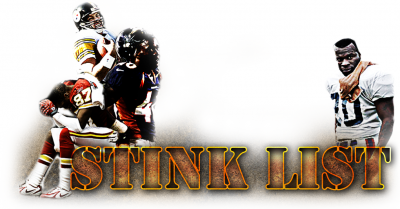 I have never been so joyous after a Broncos loss.
I realize that statement shouldn't exist in my brain, but it does. Somehow.
As I stated in the last SL, these next few weeks are meant to be soaked in. A time to reflect and hopefully relax, while enjoying a few (enough) Broncos wins to propel us into the post season.
With that mantra, I sat down at the Broncos bar, ordered a coffee (I still had the shakes from Thursday night…don't ask), and put on a shit eating grin as Peyton Manning picked the defense apart for 21 straight points. Now that's what I call happiness.
My table of compadres pounded their fists on the table, moaned exasperated sighs, and sweat out Saturday nights mistakes,. I just smiled that shit eating grin, as the Best QB in football did what he always does, make it look easy.
Then, something incredible happened, McDaniels' guys started playing.
My father is a long time Manning hater. Hates his guts. Hatred for no other reason than, he, Manning, being the best. Seeing Peyton flash his signs and point his fingers pre-snap, it brings my dad to a boil.
Shaq was recently quoted as saying that Lebron James has such a high basketball IQ, he could be a player-coach. While Lebron is the king of kings, there's no real argument to be made about this, $ making all impossible. But if someone were to ask which NFL player would have the best chance at being both playmaker an playcaller, wouldn't you have to say Peyton? Wouldn't that be the obvious answer?
I have proudly taken the venom fueled torch from my pops, my hatred for Peyton burns just as bright. I find that very few share our sentiment.
Even in a room full of Broncos fans losing a 21-nothing game to the Colts. I find myself overhearing statements like, "Manning is a good guy", or "I can hate Brady and the Patriots, but the Colts and Manning give me nothing to dislike". I'm paraphrasing all of these ass kiss comments that my good buddies made during the first half of Sundays game. While I do agree, yes HE seems swell, and yes, THEY play the game the right way.
WE HAVE TO HATE THEM.
Right now they are the best. The road to the Super Bowl goes through Indy.
As I sipped my coffee, and watched the Broncos start to pick back, it gave me a reason to scream, and cheer, and smile more, from shit eating to pure excitement.
If the first quarter of play continued and bled into the remaining three quarters, if Peyton Manning had his way and would have blown us out, the playoffs would have had such a dim emanating glow. Instead we fought back, we showed a strength to their weakness, and in doing so, proclaimed that come playoff time, we can knock anyone out. Even the Manning & the Colts. Maybe.
Favorite Name Match-up:
Preseason vs. 49ers
Ryan McBean tackled Glenn Coffee
This week:
Mitch Berger will be punting to the Oakland offense run by QB Charlie Frye.
*Stinkers in bold
I don't need to discuss the short yardage rushing problem. It is what it is. Yeah, we need more of our Peyton, but blame shouldn't fall on Knowshon Moreno,, who has tallied 837yds in his rookie campaign, good enough for 13th in the NFL, while splitting carries all season. The interior O-Line has been getting blown up on pressure rushing situations all season. So while Peyton brings a bigger body, please don't tell me that with the right blocking Moreno isn't slippery enough to find a hole and gain a yard.
Elvis Dumervil is without a doubt heading to the Pro Bowl, yet in a game of competing pass rushers, Dwight Freeney came out on top, besting our other Pro Bowl hopeful Ryan Clady. These are the games that Doom must wreak havoc. He did indeed get pressure on the Colts QB, but making Peyton taste the turf could be all the difference, and his zero sacks coming against an overrated Colts offensive line.
Let it be known that the BroncoTalk Fantasy Football Challenge: Omega Leagueis in the first round of playoffs. Two NFL weeks, last and this upcoming, will decide the first round. Weeks 16 & 17 will decide the CHAMP. I am currently getting crushed by Team Baby Jay, who started Peyton Manning and Dallas Clark last week. That alone should be enough for disqualification. I trail by a million points, but this week will sit Tom Brady and start our very own Kyle Orton. The football gods will shine down upon me. Team Baby Jay, it's time to except your punishment! FYI: The other matchup between Fancy Pants Men & The HILLIS Have Eyes is a lot closer and sure to be a barn burner. Good luck to all, even all the losers.
Time to take care of business, against another hated oppenent. Only this time the emotion is rooted in different reasons. We haven't hated the Oakland Raiders for being good in a long time. Make no mistake though, they very much want to ruin our season. Time to take care of business.
What do you think family? Who stunk it up? Who do you love to hate? What's going on this week for everyone? You feel comfortable with how things are playing out? Let's hear it.