Posted Tue Dec 8th by Monty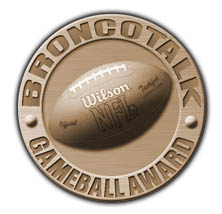 Broncos 44 – Chiefs 13. Alright, gentlemen, who ya got?!

Josh McDaniels. Can Josh McDaniels get a mother-******* game ball here? The Broncos were on the brink of total collapse, on the cusp of the franchise's worst losing streak in 20 years. Instead, they delivered the biggest win in Arrowhead history. They had lost four straight games by an average of 20 points, but McDaniels and the Broncos bounced back with two victories by an average of 25. That's coaching. – Kyle

Andre Goodman. I read the most disturbingly hilarious article about Goodman being an "obvious" downgrade to Dre' Bly and how Matt Cassel was going to have a huge fantasy day. (Ed. note: I am not above linking to said article.) I bet that kid feels stupid. – Mr. East

Correll Buckhalter. For a guy that I've not really had a lot of confidence in, even in our good games, he really impressed in this one. He found the holes and he slipped through them like a ninja, pulling off long run after long run after long run. And he returned a kick, too, while Eddie was sitting out after hurting his foot. He was being an iron man out there, and when you can get runs like that, the offense has a much, much easier time doing…whatever it wants. – E. Halsey Miles




Offensive Line. Gameball for the whole O-line… well, the whole O-line minus Ryan Clady.  What the heck, dude?  You're a rock star – two sacks is surprising and totally unlike you!  Enough ribbing our stud LT… The O-line consistently opened good running lanes today which allowed us to rush for 245 yards with Correll Buckhalter leading the way with 113 yards himself.  Here's a big 'ata boy!' to the men in the trenches as well as both Buckhalter and Knowshon Moreno. – Jonathan Douglas

Daniel Graham.  After coming off a tough week with a lot of deserved criticism came up with a big touchdown to cap off the second drive on a beautifully designed play.  2 receptions, 20 yards, 1TD.  Not much to write home about is it?  I'm praising Dan more on his blocking than anything.  The left side of that o-line was dominant in the running game, with Graham anchoring the end outside of Clady.  Buckhalter can thank those three for his big game.  They made the Chiefs defensive line look silly, allowing the Bronco running backs to rip off first downs on almost every play down the stretch.
Other notes; much deserved love to rookie Richard Quinn.  Also..
Can we give game balls to the opposing team for our victory?
Bobby Wade.  Wow, really, just wow dude.  You're wide open to help your team capitalize on a huge opening turnover and you try to catch the ball with one hand and don't even try to lay yourself out to reel it in?  Champ completely blew that coverange and that happens once a millenia.  Then he goes on to have multiple drops and argues with his coach on the sideline and basically came off as an ass the better part of the day.  Thanks for keeping the score tied at zero Bobby. – Josh Temple